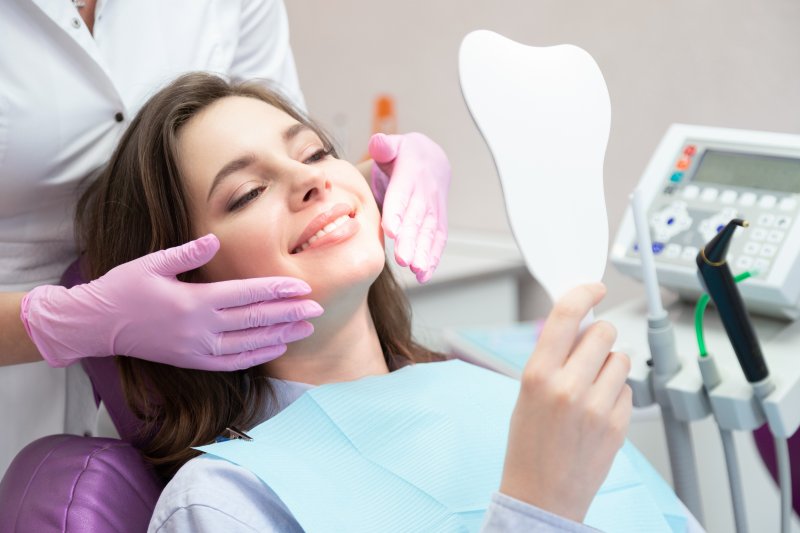 Given cosmetic dentistry's effectiveness, you may think that the field isn't very old. You might even  that it sprang up all at once from some grand invention a few decades ago. However, the truth is the opposite: this dental work has been going on since the earliest days of humanity! To prove it, here's a summary of how far cosmetic dentistry has come since it began thousands of years ago.
Cosmetic Dentistry's Beginning
Looking at history, people have always sought ways to spruce up their smiles.
As far back as 700 B.C., the Etruscans — ancestors of the ancient Romans — replaced pearly whites using unusual things. They ultimately went so far as to carve dentures out of ivory, bone, and human and animal teeth.
The ancient Egyptians, meanwhile, used gold to make dental crowns and bridges. They would sometimes hammer seashells into their gums as well. Unfortunately, the lack of good tools made this process extremely painful.
Ancient Romans actually used their urine to remove tooth stains! The 'waste' broke apart marked areas and whitened teeth.
Cosmetic Dentistry's Evolution
Unique forms of cosmetic dentistry continued into the medieval era. In that period, dentistry was considered a part of a barber's job. As such, it often involved filing and coating teeth to make them whiter. The problem, however, was that the coat usually destroyed enamel and thus the tooth itself.
Things improved dramatically during the Enlightenment in Europe. At that point, people were starting to use porcelain for dentures. Still, there were mistakes. For instance, cosmetic dentists in the 1800s tried placing metal in the sockets of missing teeth, but the body rejected tended to reject that approach.
Cosmetic Dentistry's Present
Thanks to discoveries made in the last century, cosmetic dentistry is now much more scientific. Today, dentists use powerful whitening gels and custom trays to brighten their patients' smiles by six to eight shades. Since the 1980s, specialists have used a special resin to sculpt over dental flaws. Imperfections like chips, cracks, and stains can be hidden from view with veneers made from porcelain.
Cosmetic dentistry has come a long way from its origins. Consult a dentist about possible treatment to benefit from its progress.
About the Practice
Capron Park Dental is one of Attleboro, MA's best dental practice. Their team, led by several expert dentists, has decades of experience in dentistry to ensure excellent and high-quality care. Provided services include preventive, cosmetic, and restorative dentistry, not to mention emergency treatments. Whether you need to clean, brighten, or restore your smile, Capron Park can help. For more information or to schedule an appointment, you can reach them at their website or by phone at (508)-222-5950.