Dental Implants – Attleboro, MA
The Only Solution for Full-Tooth Replacement
There are many ways to effectively replace teeth, including through traditional methods like dentures and dental bridges. But keep in mind that neither of these options actually replace the entire tooth. Instead, the replace the visible portion in your smile. Dental implants take the process to the next level and ensure truly long-term solutions for missing teeth. To learn how this process works, feel free to call our team at Capron Park Dental to schedule your next consultation to discuss tooth replacement with dental implants in Attleboro, MA!
Why Choose Capron Park Dental for Dental Implants?
Dental Implants Placed & Restored in One Convenient Location
Flexible Dental Financing Plans Available
Able to Replace Any Number of Missing Teeth
What Are Dental Implants?
There are three parts to a dental implant: the implant post, the abutment, and the restoration. The implant post, made of biocompatible materials, is surgically placed into your jaw to mimic the function of your lost tooth's roots. From there, it forges a powerful bone with your jawbone via a process called osseointegration. Then, we can secure a custom dental crown, bridge, or denture on top by anchoring it onto the abutment.
This unique three-part structure puts dental implants in a class of their own when it comes to tooth replacement. When you rebuild the entire tooth from root to crown, you end up with a solution that looks and feels just like your natural pearly whites!
The 4-Step Dental Implant Process
In many cases, dentists will ask patients to visit an oral surgeon offsite in order to have the surgical dental implant placement completed. When you visit Capron Park Dental, you're getting the entire process complete under one roof. Not only does that save you time and make your visits more convenient, but you're also able to keep your treatment amongst doctors you already know and trust, rather than work with those you may not be already familiar or comfortable with.
With that in mind, getting dental implants does take longer than getting a traditional denture or dental bridge. Because this solution can last for decades, though, we think you'll find it worth the wait! Each patient's journey will look slightly different from the next, but the four basic steps of the dental implant process are: the initial consultation, dental implant surgery, osseointegration, and the delivery of your restorations.
Benefits of Dental Implants
The most notable benefit of dental implants is just how much they mimic natural teeth. This is largely due to the implant post feeling almost identical to a natural tooth. Once the root is integrated with bone and gum tissue, you never have to worry about your tooth replacement shifting out of place or feeling unnatural when you chew the foods you enjoy. Furthermore, dental implants last longer than any other option, lasting about 25 years to a lifetime with routine care.
Who Dental Implants Can Help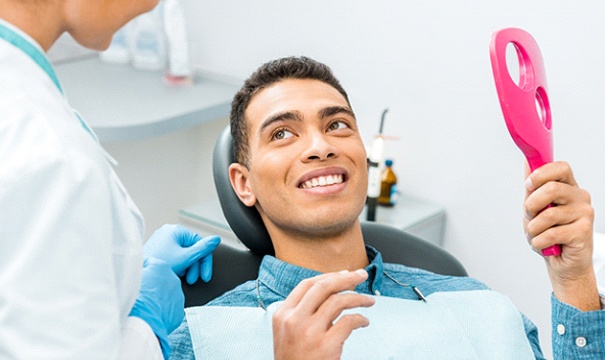 If you have missing teeth, whether it's a single tooth or multiple teeth, dental implants are likely right for you. You'll also need to have healthy gum tissue, sufficient bone volume, and good oral health overall. If you aren't sure what to expect or how the process works, keep reading below. Our dental office can replace single, multiple, or even all the teeth in your smile at a time.
Missing One Tooth
Replacing a single tooth requires the use of one implant and a single porcelain crown. The crown is attached via an abutment, which may be placed the same day as your surgery or later after the implant has had a chance to heal. All crowns used are made from lifelike dental porcelain.
Missing Multiple Teeth
Instead of relying on nearby teeth to hold one larger bridge, a pair of dental implants can accomplish all of the heavy lifting. This option is especially ideal if you do not want to modify your existing tooth enamel just to have teeth replaced.
Missing All Teeth
Whether you have a full or partial denture that you aren't happy with or you'd prefer to not settle for a traditional denture, you can use implant dentures instead! By placing four to six dental implants throughout the jaw, you can house a denture that is truly long-lasting in comparison to traditional methods.
Learn More About Missing All Teeth
Understanding the Cost of Dental Implants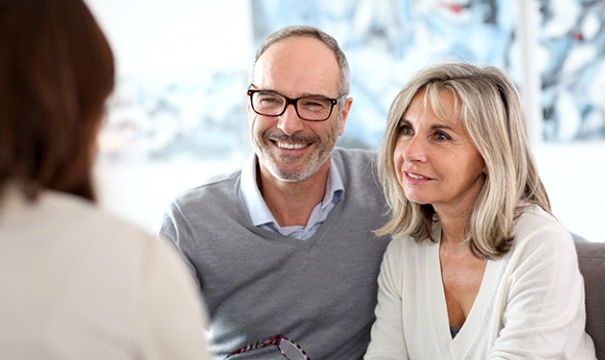 It's important to note that dental implants are not a one-size-fits-all treatment; there are many ways to customize it to fit your needs. That means overall costs can vary depending on what exactly your needs may be. Regardless of what your total is, it cannot be stressed enough how effective dental implants are as a long-term investment, even more so than dentures and dental bridges.
Preliminary Treatments & Dental Implant Surgery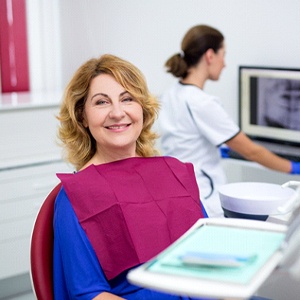 Depending on your unique circumstance, you may have to pay more for specific treatments to ensure the most successful implant procedure possible. For example, you may need to have bone grafts to increase your bone volume or periodontal therapy to treat gum disease. Additionally, anesthesia during your surgery may increase your cost. As a practice that performs every stage of implant placement in-house, you can expect your fees to be more conveniently laid out compared to seeing an offsite specialist. This means we not only place the implant, but cover it with a dedicated abutment and restoration as well.
The Parts of Your Dental Implant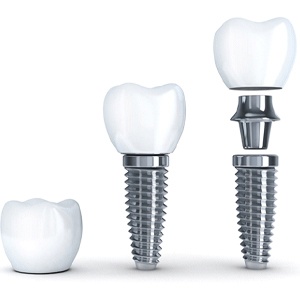 If you are receiving more than one dental implant, then you can expect your overall treatment costs to go up. Additionally, some manufacturers tend to use different materials for their dental implants. While titanium is by far the most common, others may make use of zirconia instead. Much like cars, there are different makes and models that may work better or last longer. When you speak with our dentists, you'll find out why we use certain options over others.
Final Dental Implant Restoration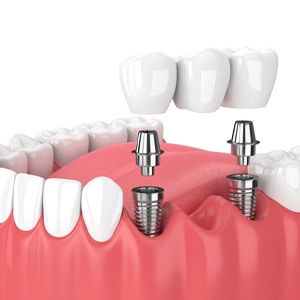 Dental implants can hold just about any type of restoration, which means your cost can vary depending on the one that you choose. These include implant-retained crowns, bridges, partial dentures, and full dentures. The more complex your restoration is, the more expensive it will be to design. Of course, no matter which restoration you need, we'll make sure that it fits inside your mouth exactly and blends in with your neighboring teeth to guarantee the best esthetics possible.
Does My Dental Insurance Cover Dental Implants?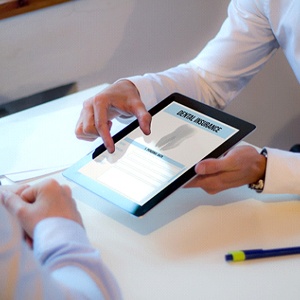 In most cases, dental insurance will not offer coverage for dental implants because they are not considered to be medically necessary to protect your oral health. However, there are some exceptions to keep in mind. Our team is happy to go over your plan in great detail as we have years of experience maximizing patients' benefits. While some parts of your overall treatment may be covered, such as the restoration itself and/or preliminary treatments, it will likely only be a portion or percentage.
Making Dental Implants Affordable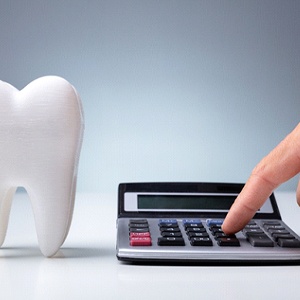 Do you not use or have dental insurance? Does your plan not currently offer coverage for dental implants, making you responsible for paying the difference? Our office is happy to provide flexible financing through CareCredit to those in need of more manageable payment plans, especially when it comes to dental implants. Not only can you make dental implants affordable, but flexible financing comes with little-to-zero interest attached. If you need help beginning the qualification process, our team is more than ready to lend a guiding hand.
Advanced Dental Implant Procedures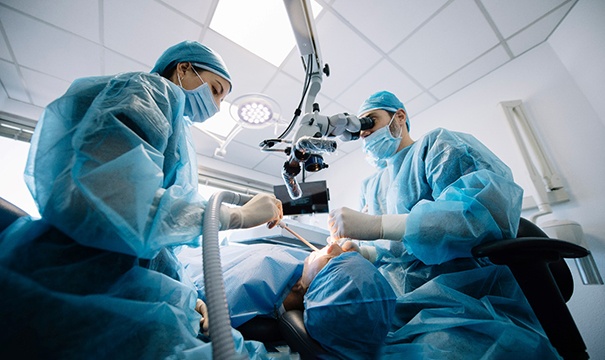 Even if you'll benefit greatly from dental implants, some patients may need additional services to get them ready for the treatment. Fortunately, our team at Capron Park Dental can provide several advanced dental implant procedures to help you become eligible for this restoration solution. If you need a sinus lift or bone graft, we will work diligently to ensure that your tooth replacement will have the highest success rate. Read on to learn about the treatments that can prepare you for your long-lasting restoration.
Bone Grafting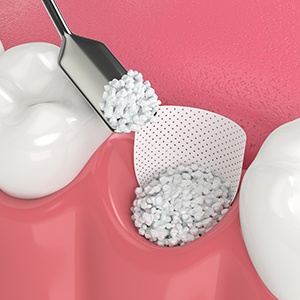 This surgical procedure is designed to replace missing bone tissue in the body. Although this treatment can be used anywhere, it's commonly performed in the jaw to prepare patients for placing dental implants. This process involves donating bone tissue from somewhere else or from your body. Once we've inserted the bone tissue into the jaw, you'll need several months to recover. After you've healed properly, you should have sufficient density to support your dental implant(s).
During your typical bone graft, our team will inject a new, small piece of bone into the jaw where the tissue needs to grow and heal. Over time, the cells within will begin to fuse completely with the new bone. The tissue will grow until it's large enough to support your future metal post.
Sinus Lift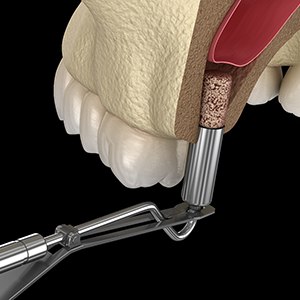 If your dental implant has to be embedded near the back of your, in the upper arch, it can sometimes be necessary to undergo a sinus lift beforehand. Whenever there are missing teeth in this area, it can create a substantial gap. If there isn't enough bone to hold the metal post in position, the implant can begin to protrude into the sinus cavity, which can be highly problematic. To fix this complication, your dentist can perform a sinus lift that involves a minor surgical process. By embedding grafting material around the implant, you can expect a less invasive procedure, a shorter healing period, and a higher success rate.
PRP/PRF Treatment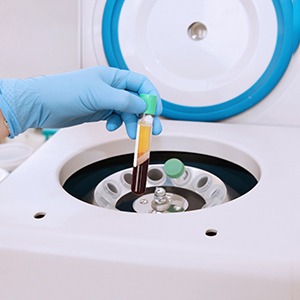 Since we'll want to make sure you heal properly from your dental implant surgery, our team will perform PRP/PRF treatment. Also known as Platelet Rich Plasma or Platelet Rich Fibrin, this procedure involves utilizing your blood to help quicken your healing process. Our team will extract some of your blood before beginning your implant treatment and place it in a centrifuge. Once you've undergone your procedure, we will place your blood around the surgical site to promote a speedy recovery. Furthermore, since the material is yours, there is a drastically reduced risk of infection.
Ridge Expansion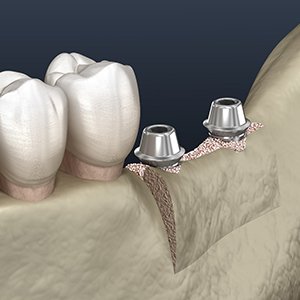 Without a sufficiently wide jawbone, your dental implant will have a much more difficult time being supported. To help improve your chances for a successful treatment, our team can perform a ridge expansion. We'll use specialized instruments called Versah drills to divide the bone, creating an inner and outer area in the process. We'll then fill grafting materials into the wedge to widen the space and form a denser section. After you've recovered, you should have enough space in your jawbone to move forward with your dental implant treatment for renewing your smile.
Dental Implant FAQs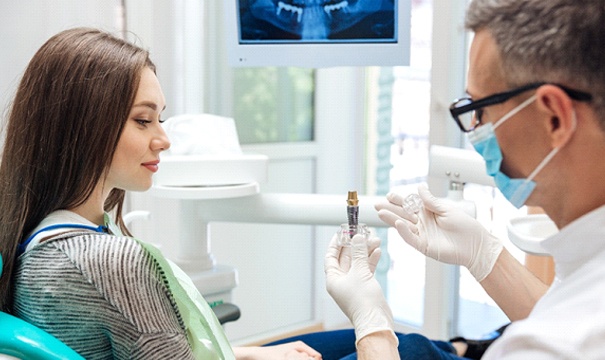 At this point, you might think dental implants from Attleboro are a good choice. These prosthetics, after all, can restore your smile's look and function in just two visits! That said, perhaps you have concerns about the treatment. In particular, you likely want to know more about implants before committing to them. Luckily enough, our team at Capron Park Dental has you covered: here are the answers to some frequently asked questions about dental implants. Please read them over to get a better idea of the procedure. If you don't find the facts you want, though, feel free to call our office or book a consultation!
Does Getting Dental Implants Hurt?
Since implants fuse to your jaw, you may fear that placing them will hurt your mouth. However, there's no cause for concern: the implant placement process is painless!
You see, your dentist will ensure treatment is smooth and comfortable. Before the procedure even begins, they'll numb your mouth with an anesthetic. In doing so, your body won't register pain during your visit. Plus, your jawbone doesn't have many nerve endings in the first place.
Granted, your mouth may feel sore for a few days after the surgery. As such, you should take any prescribed or OTC pain medication as directed. Call your dentist to book a follow-up visit if your discomfort worsens after two or three days.
How Long Does It Take to Recover from Dental Implant Surgery?
Despite some post-treatment soreness, recovering from the surgery won't take long. In fact, you should be able to resume everyday activities the day after your procedure.
That being said, you still need to be careful as you adjust to implants. For one thing, you should avoid strenuous exercise for the first week — you could otherwise delay your healing. You'll also need to take prescribed pain relievers as directed. Still, you can expect your implants to fuse fully with your jawbone after six months.
What Can Cause Dental Implants to Fail?
It's essential to care for implants well, or they might fail over time. More specifically, they could suffer from peri-implantitis or a failed fusion if you aren't attentive.
The first condition — peri-implantitis — is a type of gum disease that develops from poor oral hygiene. Left untreated, it can and will damage the bone and gums supporting your implant(s). Should that occur, the prosthetic will likely loosen and become ineffective.
On the other hand, the second issue refers to when an implant fails to integrate with your jaw. This scenario is especially likely if a patient had low jawbone density to begin with.
How Long Do Dental Implants Last?
In general, the average lifespan of dental implants is 15-20 years. Properly cared for, though, these restorations can last for 30 years or even longer!
If you want your implant(s) to work as long as possible, you'll need to protect your oral health. As such, remember to brush your teeth twice daily, floss them once daily, and rinse with mouthwash as needed. Furthermore, make sure to attend your dental checkups and cleanings regularly.