Dentures – Attleboro, MA
Affordable and Comprehensive Tooth Replacement
For patients who have experienced advanced tooth loss, dentures are the standard in smile restoration. In the past, limited access to quality materials and less-than-ideal design methods meant that patients suffered with ill fitting, uncomfortable dentures. These old fashioned tooth replacement prosthetics rubbed against soft tissue creating sores, bruises, and irritation. They only restored a minimal amount of chewing function, and a badly fitted denture could make speaking clearly a challenge. If you're in need of dentures, the Attleboro, MA dentistry team at Capron Park Dental has good news. Today's dentures look, feel, and function much more like your natural, healthy smile. That means a flawless denture can help you feel completely confident speaking, chewing, and smiling in any situation.
Why Choose Capron Park Dental for Dentures?
Fully-Customized to Fit Your Mouth
Utilizes Acrylic and Porcelain Materials
Can Be Customized to Fit with Dental Implants
Do I Have to Replace my Missing Teeth?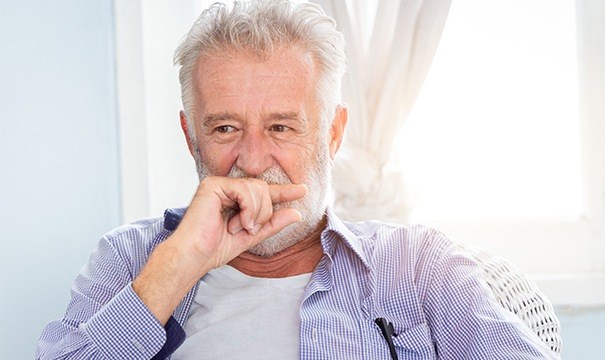 You don't have to, but it's highly recommended. Without tooth replacement, you may experience numerous adverse effects including:
Loss of jawbone density or gum tissue volume leading to changes in facial shape and further tooth loss
Inability to chew food thoroughly, which can lead to choking or a limited diet
Difficulty speaking clearly
Lack of confidence during social interactions
What is a Partial Denture?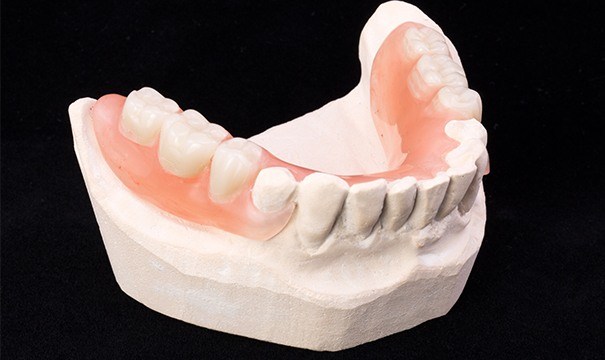 Partial dentures fill in the gaps in a smile, when there are healthy teeth remaining. A denture base is used to support numerous replacement teeth, and the prosthetic is fitted securely to the healthy teeth with metal clasps.
How do Full Dentures Work?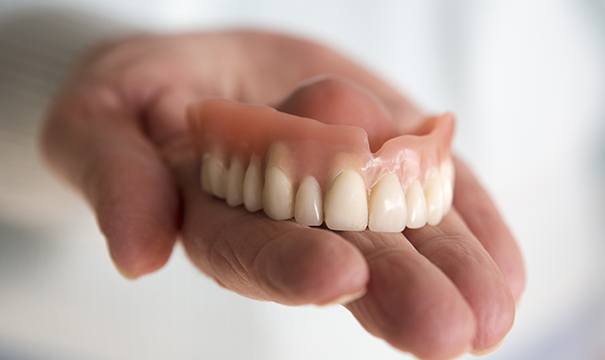 Full dentures are used to replace an entire row of teeth. Because there are no remaining teeth to attach them to, full dentures rely on suction or adhesives to ensure stability. The dentures base is formed to fit snuggly against the gum line. This tight fit creates friction and suction that should hold a properly fitted denture in place. However, many patients feel more comfortable using a little dental adhesive for added support.
What is the Denture Process Like?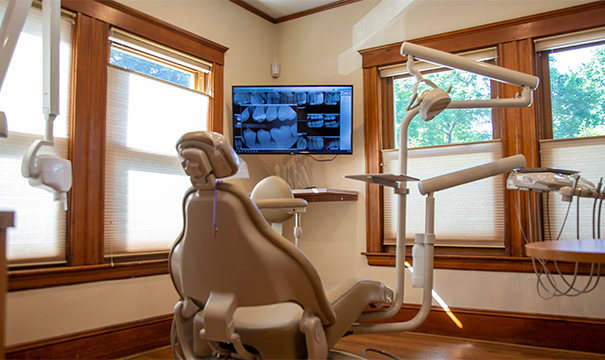 Dentures are designed and placed over the course of several appointments. We begin by completing any preparatory treatments like tooth extraction or treatment for gum disease. Once damaged or decayed teeth are removed and gum tissue is healed and healthy, we capture bite impressions that are used to design the custom fitted denture. A trusted dental lab will make our design into a flawless, natural looking and feel partial or full denture.
Once we receive the prosthetic, you return to our dental office. We ask you try on your custom denture to ensure it fits. If the denture feels uncomfortable, we will likely recommend you wear it for a few days or weeks, as these restorations can take some getting used to. If you're still not happy with your restoration after this adjustment period, we may need to return the denture to our lab for adjustment.
Learn More About the Cost of Dentures
Can I Get a Dental Implant Supported Denture?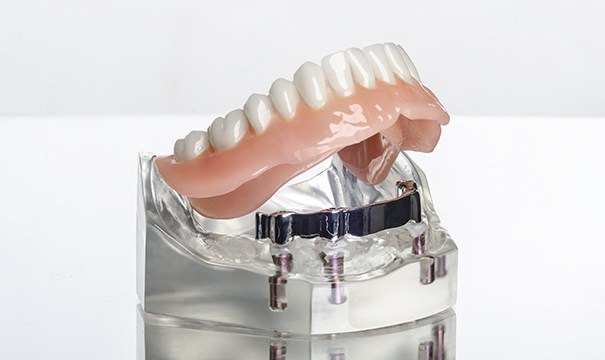 Absolutely. In fact, many of our patients prefer implant retained prosthetics. Dental implant-retained dentures are fixed not removable. That means they look and feel more like natural teeth to many of our patients. Additionally, implant supported dentures offer increased stability and improved chewing abilities, even compared to our quality custom crafted dentures. In fact, most patients experience chewing restoration higher than 70% with an implant denture or partial. The dental implant placement process will add time and cost to the tooth replacement plan both of which should be considered before beginning the implant supported denture process.
How do I Clean my Denture?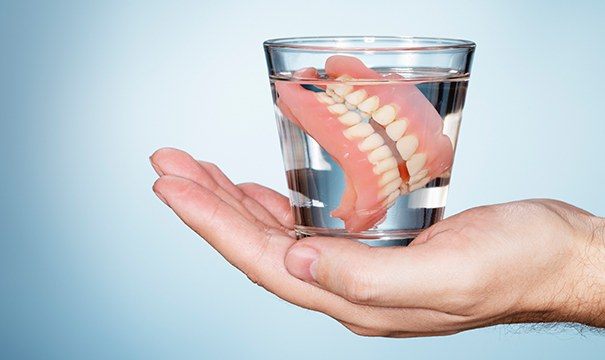 Dental implant supported dentures should be brushed regularly just like natural teeth. Oral hygiene for patients with removable dentures is a little different. You'll need to at least rinse your mouth and the denture with water before placing them each day. You also need to brush your denture at least once daily. Specially crafted denture toothbrushes are available to protect the dentures from wear and make brushing easier. You should also choose a minimally abrasive toothpaste to protect your denture. Always store your denture in water or cleaning solution when not in use to avoid drying out the prosthetic, and use cold water not warm or hot water as this can change the shape of the of the base material.
What if I have an Emergency?
Whether you already wear a denture and have broken or damaged it or you've lost numerous teeth due to facial trauma, your situation is an emergency. Don't wait for your next checkup or regular business hours to call us. Contact our team for an emergency dentistry appointment right away. We can typically see you on the same day as your initial phone call. Our goals will be to relieve any pain you're experiencing, and provide a fast, effective dental restoration plan that will put the smile back on your face.