Dentures – Attleboro, MA
Affordable and Comprehensive Tooth Replacement
For patients who have experienced advanced tooth loss, dentures are the standard in smile restoration. In the past, limited access to quality materials and less-than-ideal design methods meant that patients suffered with ill-fitting, uncomfortable dentures. These old-fashioned tooth replacement prosthetics rubbed against soft tissue creating sores, bruises, and irritation. They only restored a minimal amount of chewing function, and a badly fitted denture could make speaking clearly a challenge.
If you're in need of dentures, the Attleboro, MA dentistry team at Capron Park Dental has good news. Today's dentures look, feel, and function much more like your natural, healthy smile. That means a flawless denture can help you feel completely confident speaking, chewing, and smiling in any situation. To learn more about the affordable and comprehensive tooth replacement you deserve, call us today !
Why Choose Capron Park Dental For Dentures?
#1 100% Customized to Fit Comfortably In Your Mouth
#2 High-Quality Materials for Durable & Lifelike Results
#3 Can Be Paired with Dental Implants
Do I Have to Replace My Missing Teeth?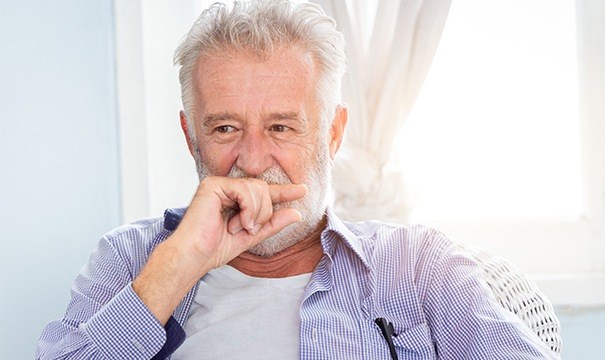 You don't have to replace your teeth, but it's highly recommended. Without tooth replacement, you may experience numerous adverse effects, including:
Loss of jawbone density or gum tissue volume, leading to changes in facial shape and further tooth loss
Inability to chew food thoroughly, which can lead to choking or a limited diet
Difficulty speaking clearly
Lack of confidence during social interactions
Types of Dentures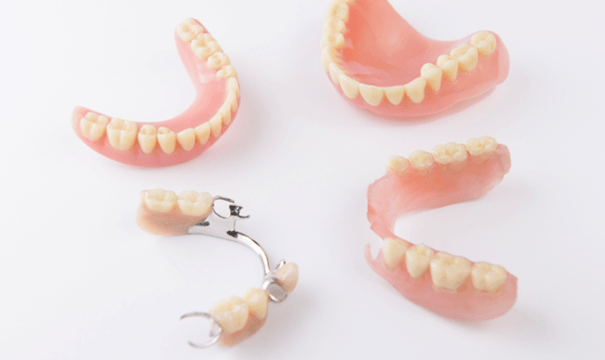 Although tooth loss has declined over the last several decades, there are still roughly 120 million people in the United States with at least one missing tooth and another 36 million who do not have any remaining natural teeth. When living with an incomplete smile, it not only lowers your self-esteem, but also negatively impacts your quality of life and oral health as well.
Partial Dentures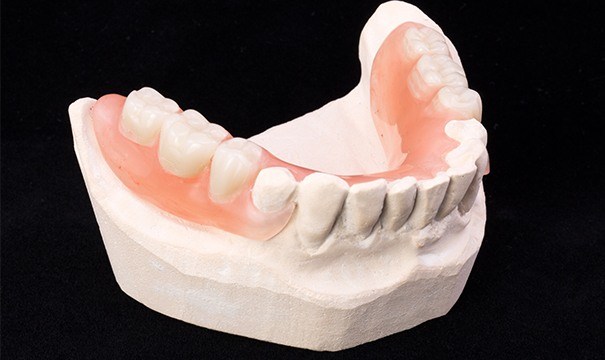 Partial dentures fill in the gaps in a smile, when there are healthy teeth remaining. A denture base is used to support numerous replacement teeth, and the prosthetic is fitted securely to the healthy teeth with metal clasps.
Full Dentures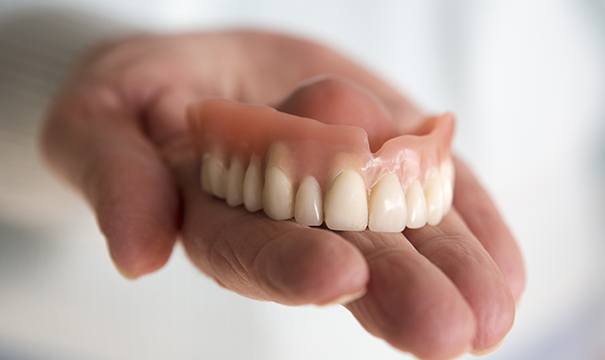 Full dentures are used to replace an entire row of teeth. Because there are no remaining teeth to attach them to, full dentures rely on suction or adhesives to ensure stability. The dentures base is formed to fit snuggly against the gum line. This tight fit creates friction and suction that should hold a properly fitted denture in place. However, many patients feel more comfortable using a little dental adhesive for added support.
Implant Dentures
Thanks to state-of-the-art technology, dentures can now be stabilized with dental implants. In fact, many of our patients prefer implant dentures. This type of denture offers increased stability and improved chewing abilities, even compared to our quality custom crafted dentures. Most patients experience chewing restoration higher than 70% with an implant denture or partial.
Overall, implant dentures look and feel more like natural teeth than any other tooth replacement option to many of our patients. The dental implant placement process will add time and cost to the tooth replacement plan, both of which should be considered before beginning the implant denture process.
The Process of Getting Dentures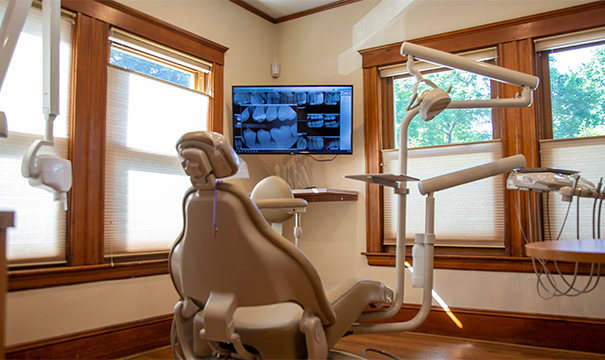 Dentures are designed and placed over the course of several appointments. We begin by completing any preparatory treatments like tooth extraction or treatment for gum disease. Once damaged or decayed teeth are removed and gum tissue is healed and healthy, we capture bite impressions that are used to design the custom fitted denture. A trusted dental lab will make our design into a flawless, natural looking and feel partial or full denture.
Once we receive the prosthetic, you return to our dental office. We ask you try on your custom denture to ensure it fits. If the denture feels uncomfortable, we will likely recommend you wear it for a few days or weeks, as these restorations can take some getting used to. If you're still not happy with your restoration after this adjustment period, we may need to return the denture to our lab for adjustment.
How Much Do Dentures Cost?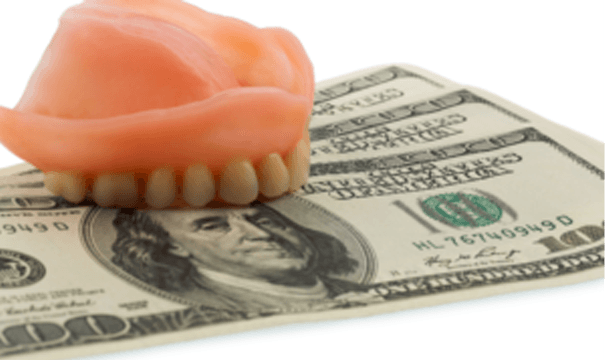 There is no set price for dentures because there are several factors that will influence the amount you can expect to pay, such as how many teeth are being replaced, the materials used, and your insurance coverage. On average, you can expect to pay:
Basic denture per palate: $300 to $1,500
Full set: $600-$3,000
Removable partial: $300-$4,000
Implant denture: $3,500+
There is clearly a large price differential, which can have you a bit confused as to how much your new smile will cost. While it may be tempting to choose the cheapest option possible, this will impact the quality and durability of the prosthetics. Although they may be more affordable, they will not last long and will need to be replaced more often. As a result, it is best to invest in a quality denture to make the most of your purchase.
When you visit us for a consultation, we'll be able to give you an estimated price for your dentures, including any applicable dental insurance coverage. This way, there will be no unpleasant surprises when the time comes to pay for your treatment. We'll also go over all your options for making your new smile as affordable as possible.
The Factors That Influence The Cost of Dentures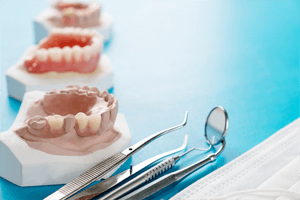 When determining the cost of your new smile, there are many factors that you will need to consider, such as:
Materials Used: High-end materials will cost more, but they more closely mimic the gums and teeth while offering a comfortable fit. In addition, they often last longer and are less prone to chipping and cracking than cheaper alternatives.
Additional Procedures: It is not uncommon to need tooth extractions, gum disease therapy, or other additional procedures prior to receiving your dentures, which will increase the cost.
Insurance Coverage: Dental insurance coverage for dentures varies widely from policy to policy. This being said, you can typically expect dental insurance to cover 20-60% of the cost.
Maintenance Fees: To promote the longevity of your new smile, your dentures will require maintenance and adjustments. Although this amount will not be due upfront, it is important to consider the cost when getting your replacement teeth.
How to Make Your Dentures Affordable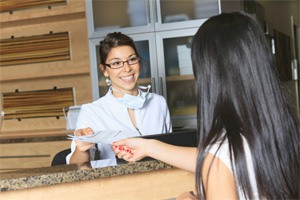 If you are concerned about the cost of dentures, do not let that stop you from visiting us for a consultation. We will help you find an effective solution that accommodates your budget.
Keeping Your Dentures Fresh & Clean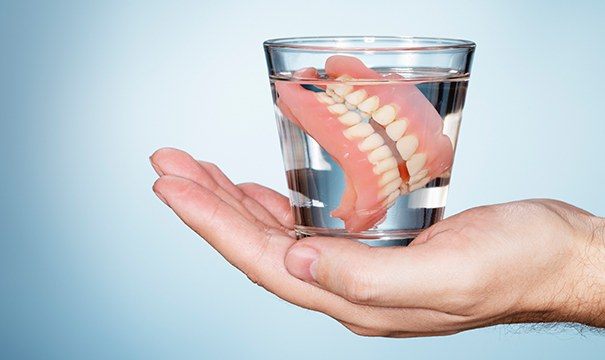 Cleaning your new smile will be a relatively easy task. You'll need to at least rinse your mouth and the denture with water before placing them in each day. You also need to brush your denture at least once daily. Specially crafted denture toothbrushes are available to protect the dentures from wear and make brushing easier. You should also choose a minimally abrasive toothpaste to protect your denture. Always store your denture in water or cleaning solution when not in use to avoid drying out the prosthetic, and use cold water not warm or hot water as this can change the shape of the of the base material.
Dental Emergencies: Broken Dentures & Lost Teeth
Whether you already wear a denture and have broken or damaged it or you've lost numerous teeth due to facial trauma, your situation is an emergency. Don't wait for your next checkup or regular business hours to call us. Contact our team for an emergency dentistry appointment right away. We can typically see you on the same day as your initial phone call. Our goals will be to relieve any pain you're experiencing, and provide a fast, effective dental restoration plan that will put the smile back on your face.
Denture FAQs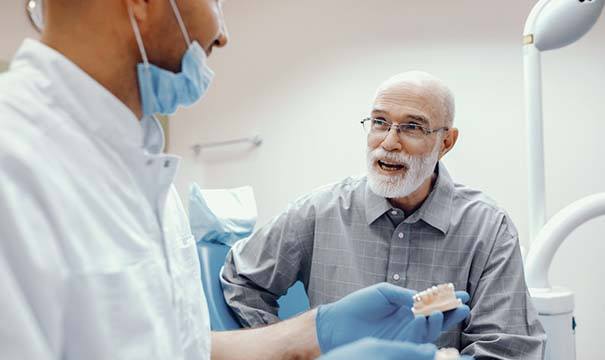 As an affordable and comprehensive tooth replacement, dentures have helped countless adults enjoy having a full smile again after their teeth have been lost. That being said, we understand if you have a few questions that you need answered before you're comfortable beginning the denture process. To help you feel confident that you're making the right decision for your smile, we've answered a few frequently asked questions about denture below. Of course, we encourage you to call us if the information you're looking for isn't on this page!
Should I Have All of My Teeth Pulled to Get Dentures?
As lifelike as dentures are, nothing compares to your natural teeth. That's why, whenever possible, it's almost always ideal to repair a damaged tooth rather than extract it entirely. We typically only recommend removing a tooth when it has sustained too much decay or damage to be restored with any other treatment.
Of course, this is not always the case. For example, if all of your remaining teeth on an arch are extremely decayed or infected with advanced gum disease, it might be more cost-effective to go ahead and extract them rather than try to repair them with crowns that may not be very effective. Whatever the case may be, our dentists will always review your options with you before going through with any treatment.
Is It Hard to Talk with Dentures?
When you first receive your dentures, it will take some time before you fully get used to speaking with them. This adjustment period usually takes a few weeks, but it could take months. Luckily, you can speed up this process by practicing more often. Reading out loud or singing to yourself are good ways to do this! Remember to speak slowly at first, because talking too quickly might result in your speech coming out muffled. Wearing a small amount of denture adhesive can also help while you're still adjusting, as it can provide some extra stability.
What Can't You Eat with Dentures?
While eating with dentures is definitely easier than doing so without teeth at all, certain foods can prove problematic with dentures. Try to limit or avoid:
Sticky foods – Gummy candies, peanut butter, and other sticky foods can pull your dentures out of place.
Foods with tiny pieces – Small bits of food like sesame seeds and popcorn kernels could get stuck in or underneath your dentures.
Hard foods – Very crunchy foods like nuts, apples, and carrot sticks could break your dentures if you're not careful.
Tough meats – It takes a great deal of chewing power to eat tough meats like steak and pork chops, which exerts pressure on your dentures as well as your gums.
Can You Kiss with Dentures?
Just because you're wearing dentures doesn't necessarily mean you can't kiss your partner. However, it can take a while to get used to the way it feels. Because dentures don't contain nerves like natural teeth do, you'll have to be careful to avoid bumping your false teeth against your partner's real ones. You should also focus on kissing gently to prevent your dentures from shifting out of place.