ClearCorrect – Attleboro, MA
Convenient, Image Friendly Answer for Straighter Teeth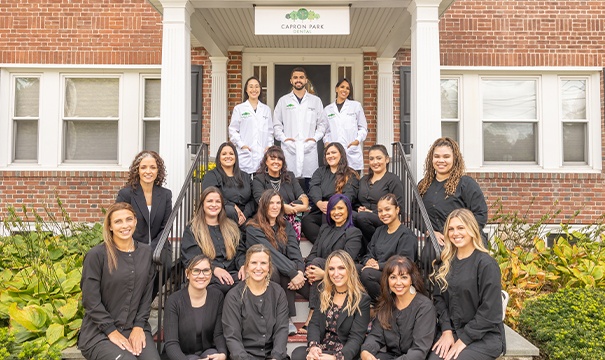 The brackets and wires of traditional braces can be inconvenient in more ways than one; they get in the way of cleaning your teeth and eating your favorite foods, and they can be a distracting part of your smile. Teens and adults may be able to find a more comfortable, convenient alternative, however, in the form of ClearCorrect in Attleboro. To learn more about this treatment and begin the process of straightening your teeth, call Capron Park Dental today and schedule a consultation with one our knowledgeable Attleboro dentists.
How ClearCorrect Works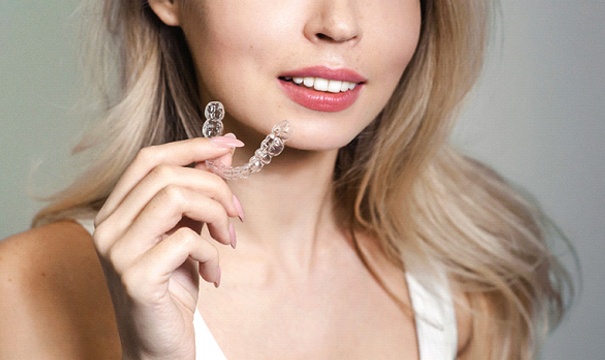 If you are a good candidate for ClearCorrect, we'll move forward by collecting bite impressions, dental X-rays, and intraoral photos that will be used to precisely plan your orthodontic treatment. In most cases, your unique treatment plan will be completed within 12 to 18 months, and throughout the process, you'll visit us about once a month for short checkups to ensure you're making good progress.
Before you get started with your ClearCorrect plan, you'll receive specific instructions from our team, but the basics include:
Wear your aligner trays as long as possible each day, making sure to keep them in place for at least 20 hours daily.
Remove your aligners in the morning and before bed to brush teeth and clean the alignment trays. You should also remove your aligner during meals.
Exchange your alignment trays every two weeks unless directed otherwise.
Visit our team for checkups every six to eight weeks, so we can check your progress.
What's the Difference Between ClearCorrect and Invisalign?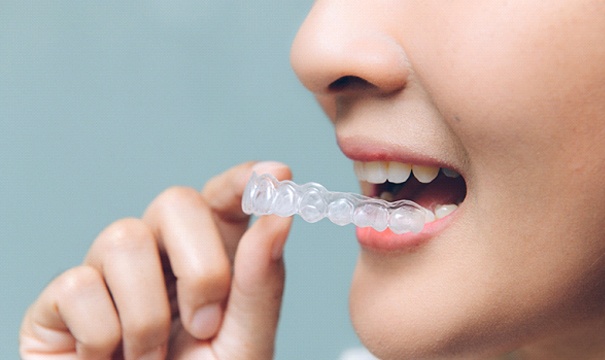 As they both use plastic aligners to adjust and straighten your teeth, ClearCorrect and Invisalign are very similar to each other. However, there are a few important differences. While Invisalign sends all of the aligners you'll use over the course of treatment at once, ClearCorrect only provides a few at a time. Because of this, they can be designed to fit much more comfortably in your mouth. Also, since ClearCorrect is made from a lighter, thinner material, it tends to be less visible. Other differences such as cost might need to be taken into account depending on your situation. Be sure to ask about both ClearCorrect and Invisalign when you visit our dental office.
Benefits of Using ClearCorrect Instead of Traditional Braces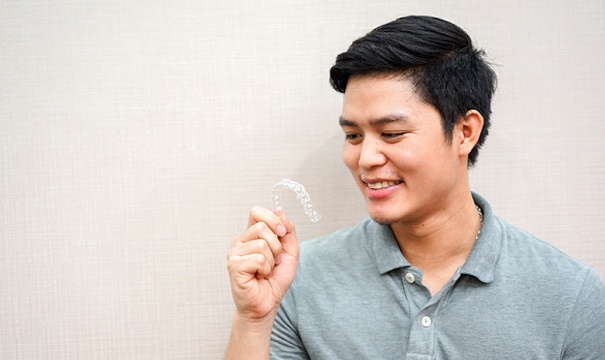 Depending on what kind of corrections you might want to make, you may have to decide between ClearCorrect and traditional braces. Here are a few advantages to keep in mind when considering the clear aligners:
Less Noticeable: Few people who aren't looking for it will be able to tell you're wearing a ClearCorrect tray. You can go to that important interview or on a date without worrying about the stigma that would normally be associated with metal braces.
Removable: Your ClearCorrect aligners can be taken out of your mouth, freeing you to chew all of your favorite foods. You can also brush your teeth as you normally would, and maintenance of the appliance itself becomes much easier.
Less Time in the Dental Office: Braces normally require at least one appointment per month for adjustment, but with ClearCorrect, you'll only need to come in once every six weeks so that we can check your progress.
Understanding the Cost of ClearCorrect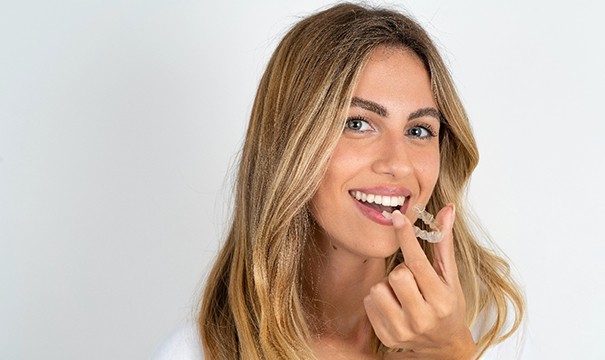 When you're preparing to start the ClearCorrect process, you want to be sure that it is the right method of treatment for you. Part of this is evaluating its cost. Naturally, most patients who want a straighter smile are willing to pay, but it helps to know beforehand how much you can expect to pay out of pocket. As there are many factors your dentist will need to consider before supplying an estimate, you must meet with them for a scheduled visit to learn how much your new smile will cost. Keep reading to find out more about the cost of ClearCorrect and what you can expect when it comes to budgeting for a straighter smile.
Factors that Affect the Cost of ClearCorrect
You want to move forward with ClearCorrect because of its discreet look and ease of wear but how much will it set you back? When meeting with your dentist, you can expect that they will conduct a complete exam to determine not only the timeline for treatment but also the proposed cost.
Some of the most common aspects you can expect them to evaluate include:
The kind of orthodontic problem you're facing (i.e., bite misalignment, overcrowding, gaps)
How many clear aligners you will need to complete treatment successfully
Whether you need top aligners only or bottom ones, or both
The kind of retainer you'll be required to wear once you're finished with ClearCorrect
ClearCorrect vs. Smile Direct Club™: Which Costs More?
You're not in the minority if you want to save money on orthodontics. Many patients believe that do-it-yourself (DIY) solutions are just as good and will have you seeing a straighter smile in no time. Unfortunately, this is not the case, and products like Smile Direct Club™ will only leave you disappointed. Here's why:
Unless you're trained properly, you may capture an incorrect impression of your teeth, resulting in ill-fitting aligners that do more harm than good.
Not all patients are considered good candidates for clear aligners. Without a thorough consultation with a professional beforehand, you may end up damaging your teeth.
If you run into an emergency while wearing Smile Direct Club™ aligners, you do not have a professional who can provide immediate in-person care.
Choosing ClearCorrect not only ensures that you get the treatment you deserve but that you'll receive the necessary care to guarantee that your smile remains protected, safe, and on the right track.
Does Dental Insurance Cover ClearCorrect?
You will need to review your dental insurance plan to determine if you have available coverage. Most do not include orthodontics; however, you can purchase a supplemental plan if necessary. You will need to review the stipulations and exclusions that many of the plans include, though, as it may limit your ability to receive financial help based on your age or the type of orthodontic work you receive. Our team, however, will go over your plan and help you determine how best to save.
Options for Making ClearCorrect Affordable
If you do not have coverage for orthodontic clear aligners, there is the option of enrolling in a flexible financing option. Our team will be happy to assist in helping you understand your choices so that you can opt for a solution that will help you save the most money while working toward a straighter smile.