Dentist Reviews – Attleboro, MA
How We Make Our Practice Better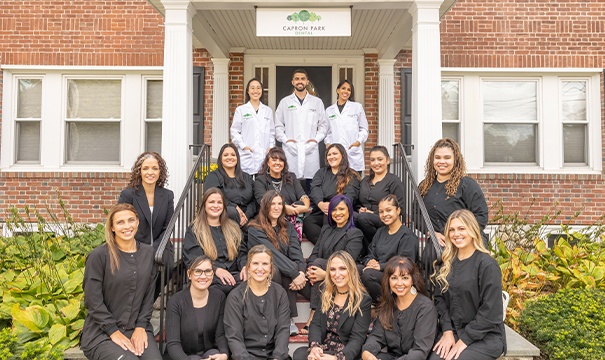 It is our pleasure to provide quality dental care for Attleboro and the surrounding areas of Mansfield, Plainville, North Attleboro, and Norton. That's why we love hearing from patients who are pleased with our services.We take our patients' satisfaction seriously, and receiving your feedback is a crucial aspect of our ability to provide the very best care. Online reviews give current and prospective patients the opportunity to see what sets us apart. Take some time to read what our patients have to say about us on Google and Facebook. Once you've gotten to know Capron Park Dental, don't forget to schedule an appointment for you or a loved one while you're here.
Over 500 5-Star Reviews On &
Read Our Google Reviews Read Our Facebook Reviews
My visits to Capron Park Dental have been as good an experience as a dental visit can possibly be.Everyone I have interacted with at the office have been very helpful, professional and perform high quality dental care.I have not been very good at keeping up with my preventative dental care throughout my life and have now been needing to make up for past neglect.I really appreciate that during my visits here I haven't felt judged or criticized for that at all, which is a rare.The focus has been on where we go from here, just as I would want it to be.I'll certainly return and will likely begin my family here as well.This is a great dental office I would highly recommend them to anyone.
Good and knowledgeable staff who are always inviting. Kelly just cleaned my teeth for my six month cleaning. She was personable and very thorough. The best a dentist can possibly get. Recommend checking them out."
My family and I have been to this practice for over 6 years before it transitioned to becoming Capron Park Dental. My family and I love coming here..from the front staff, to the hygienists to the amazing Dentists'. I have never felt so comfortable and it's like having a second family every time we come.If you have anxiety about having any dental work done, Capron Park Dental will let those worries melt away.Best around hands down!!
Capron Dental gave me the BEST dental experience I've ever had and I will never go to anyone else. I was anxious and nervous but they were so encouraging and calming. They talked me through everything they were doing and I left feeling relaxed. Their work is excellent and more than satisfactory. To top it off, their building is beautiful and is fun to see. They are now my dentist for life.
I can not express enough how comfortable Capron Park Dental made my son and I feel during our long overdue visit to their office. The people were extremely kind, friendly, and efficient in their care for us. So glad we made an appointment based on a recommendation from friends. I'm grateful, and looking forward to continued care at Capron Park Dental.
Routine teeth cleaning. Was welcomed warmly and had a routine cleaning scheduled. The assistant Morgan prepped me for new set of xrays because I'm a new patient. It went smoothly. The Hygienist Cheryl guided me after the cleaning on some tips and tricks. Dr. Luccio introduced himself mid session. Very professional, clean, nice environment. The best teeth cleaning I have ever had.
I met Dr. Herr and Danielle because I had a dental emergency and my usual dental office was closed.All the staff were very understanding, professional and most importantly they were empathetic to my issue.Dr. Herr took the time to explain all my options, and gave thorough explanations of each. I was very impressed with the office and all the caring people I met there.The fact that Dr. Herr explained they have a phone number for emergency situations, and that in the event of an emergency he would get back to me usually within 15 minutes truly impressed me.I will be returning to Capron Park Dental as a patient and highly recommend the office if you are looking for a dentist!
I was looking for a new dentist and came across Capron Park Dental in Attleboro, I happened to read the reviews and saw nothing but positive feedback. Decided to give them a call and they scheduled me the next day for a check up. From the moment I walked in from the moment I left, I felt welcomed. The staff is friendly and makes you feel at home. Dr. Luccio was amazing! Very informative and comforting. I look forward to my next visit!
I was looking for a new family dentist that has a courteous staff. A make you feel good service the minute you walk in.. Most important the up to date equipment and a knowledgeable team. After my first appointment, I made appointments for my family. I love this place, and if you are looking for a new dentist, try them, you will not be disappointed...
This place is the most pleasant experience I have ever had at a dentist office. The staff is friendly and do a great job of making you feel welcome. The environment is clean and comfortable and they offer you coffee, tea and water in the waiting room. I never had to wait very long for my appointment and when I went for my initial visit, I felt like the dentist gave me his full attention and gave me plenty of time. He explained everything that he did and did not pressure me to go for expensive dental care that my insurance didn't cover. I feel like the staff here are friendly, honest and knowledgeable. I feel confident I am in good hands and my cleaning left my teeth looking and feeling so clean and bright!
My name is Madison. I am 8 years old. My daddy is helping me write this review. We went there for my bi-annual cleaning. Heather was my Hygienist. When she cleans my teeth with those metal tools, she is always careful and makes it so it doesn't hurt. She is very gentle and always takes the time to explain the procedure to me so I won't be scared. She helps teach me to properly brush my teeth, and takes the time to show me proper brushing and flossing techniques. She lets me pick out my favorite flavor tooth polish and she even lets me pick out my own toothbrush at the end. When I leave the dentist office my mouth feels great. Heather even lets me pick out my own prize out of the treasure chest. Heather is the BEST hygienist in the world and I would recommend her to anyone looking for a great dental experience.
---
Video Testimonials
Over the years, we've met some really incredibly patients that we wouldn't trade for the world. Their loyalty has been quite inspiring, and we're happy that we can continue to provide them services that meet their standards. Below, you'll find a series of video testimonials who have been kind enough to lend us their experiences to future patients. Give them a look below to learn more about our practice!
Theron
Jane
George
Damaris
David
Nicole
Scott
Mike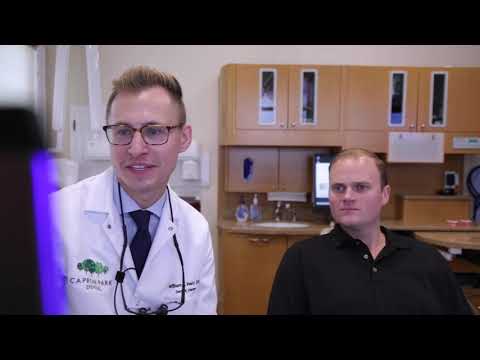 Christine H.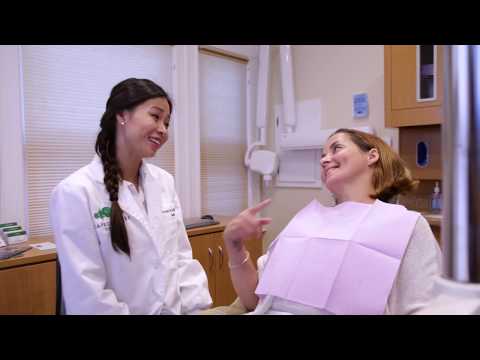 Rachel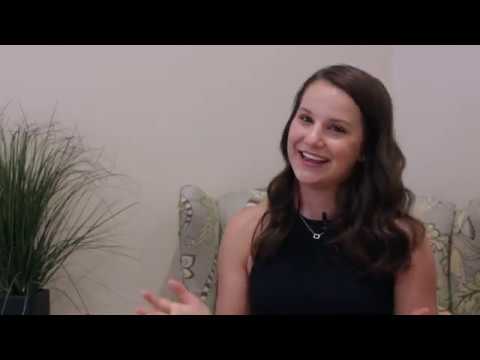 Forshia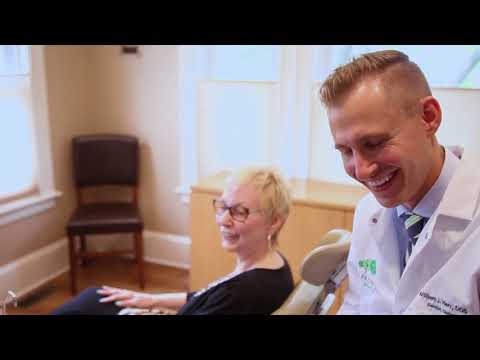 Christine B.
---
Leave Us a Google Review
If you have recently visited Capron Park Dental, we would love if you would leave a Google review of your own to let us know how it went!