Teeth Whitening – Attleboro, MA
Make Your Smile Brighter Than Ever
Have you been up and down the oral hygiene aisle at the local grocery store trying teeth whitening toothpastes, mouthwashes, strips, and gels with little to no change in the shade of your smile? Are you spending your spare time checking out dubious DIY smile brightening ideas on YouTube? Put down the white strips, leave the charcoal in the grill, and call Capron Park Dental to schedule an appointment with our cosmetic dentist and team in Attleboro. We offer a variety of cosmetic dentistry solutions to deliver flawless smiles MA cosmetic dentist that deliver smiles up to ten shades brighter.
Why Choose Capron Park Dental for Teeth Whitening?
Uses Professional-Grade Bleaching Solutions
Custom-Made Trays Ensure Even Coverage
Brighten Smile in Just Two Weeks
Causes of Dental Discoloration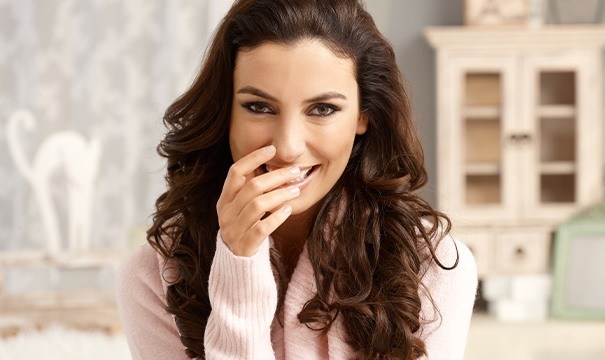 Before we recommend teeth whitening, we want to understand the underlying causes of your dental discoloration. There are many reasons teeth may become discolored, but some of the most common causes of tooth staining include the following;
Consumption of darkly colored foods and drinks
Tobacco use
Enamel wear revealing the yellow dentin layer of the tooth
Overconsumption of fluoride during dental development may lead to brighter white spots on teeth
Taking tetracycline medications during dental development may cause dark stripes on the surfaces of teeth
Some people are genetically predisposed to have darker tooth coloring
Extrinsic Vs. Intrinsic Staining
There are two different types of stains that can occur in your smile: extrinsic and intrinsic. Extrinsic staining occurs when there is staining on the outside of your enamel—the outer surface of your smile. This is usually caused by consuming foods or drinks rich in color. Additionally, this type of staining will happen gradually over time. However, Intrinsic stains affect the dentin, which is the underlying layer of the tooth. Discoloration in this area of the tooth is typically caused by trauma or taking medication like tetracycline antibiotics. Plus, as you get older, your teeth naturally become worn down, which will eventually lead to intrinsic staining.
How Does Teeth Whitening Work?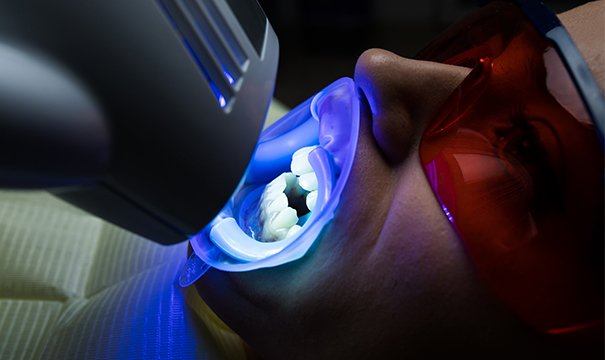 Teeth whitening relies on an active whitening agent to lift stains from the porous surfaces of teeth through a chemical process called oxidation. You may be familiar with oxidation in some of its less-positive manifestations like causing rust or rotting food, but oxidation is also how we clean clothes and dishes as well as whiten teeth. Every tooth has three layers – the hard, porous outer enamel, supportive yellow dentin, and the soft pulp. The thicker and healthier the enamel, the brighter the smile. Teeth whitening agents create an oxidation reaction that bubbles through the porous enamel lifting away stains. Unfortunately, saliva is constantly working to neutralize chemical reactions in the mouth, including oxidation. This is where store bought teeth whitening solutions typically fail. They allow the saliva to access and neutralize the whitening agent, stopping the smile brightening process in its tracks.