Patient Testimonial, Clear Aligners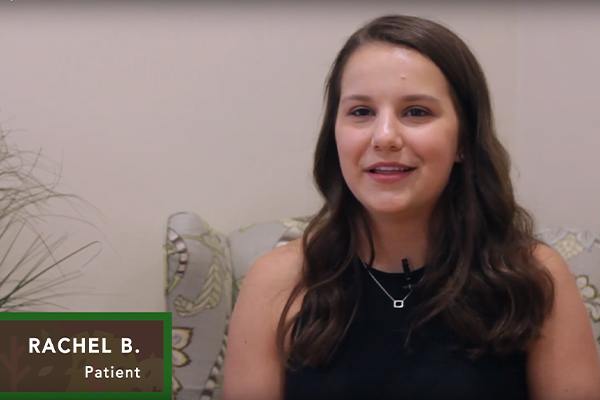 Now that the summer season is in full swing, the dentists and team members at the practice are prepared to continue serving the Attleboro and surrounding communities! As more people have time to get their cleanings and exams completed, we're doing everything we can to accommodate families and individuals throughout the summer months.
In our most recent quarterly newsletter, we want to highlight one of our longtime patients at Capron Park Dental. Rachel has been a patient of ours for 10 years, and my, how the years have flown by! As someone who's completed orthodontic treatment, we'll go over how fixing crooked or gapped teeth, as Rachel has, can make a difference in maintaining positive long-term oral health.
Later, we'll discuss how other orthodontic treatments, including Invisalign and ClearCorrect, make it easy to achieve a healthy smile without compromising your ability to eat the foods you enjoy or your oral care routine. Finally, we'll take an in-depth look at how your clear aligner series is created and why the advanced technology we use makes orthodontics easier and more effective overall. It's quite the fascinating process!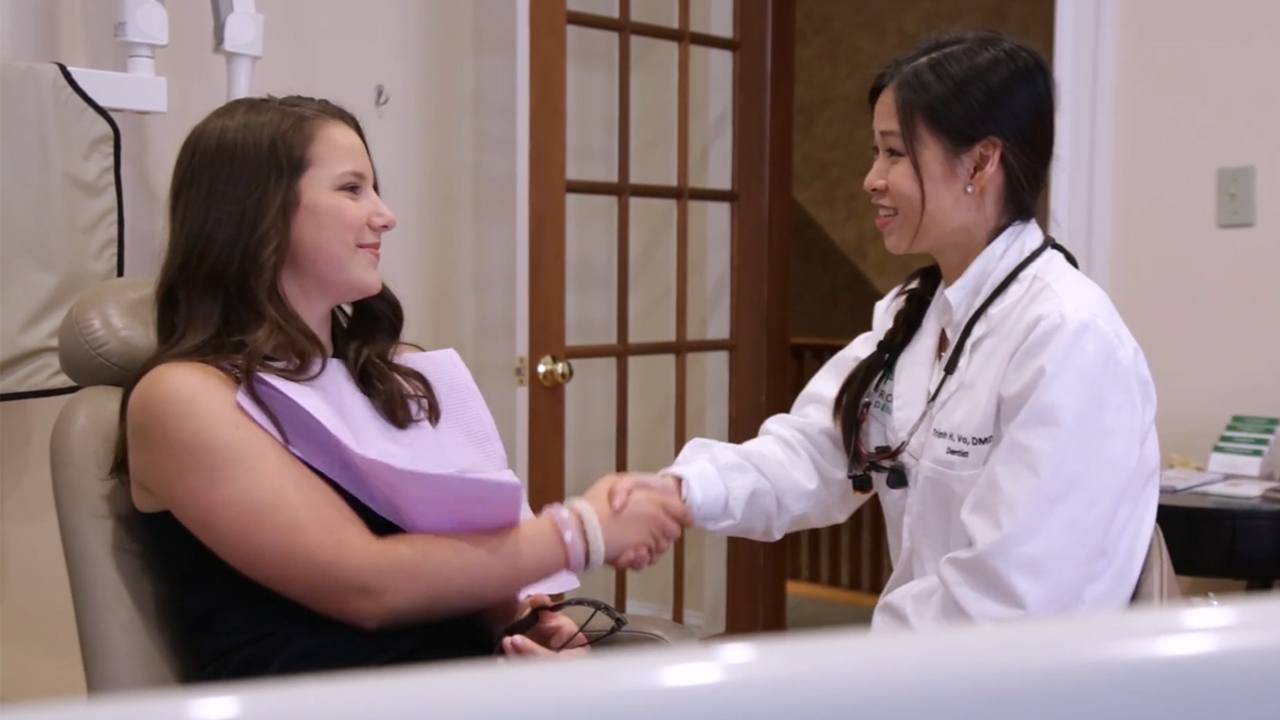 Meet Rachel: A Long-Term Patient and Friend of the Practice
We're happy to hear that every time Rachel visits our practice for a routine appointment, she feels welcomed and knows her care is in capable hands. At Capron Park Dental, making you feel comfortable during every step of your appointment is our highest priority! Take a moment to view the video below where Rachel goes into more detail about her experience with us over the past decade.
Thank you so much for the kind words Rachel! We look forward to many years of exams, cleanings and cosmetic treatments to keep your smile healthy and looking beautiful! Routine visits to our office have been a crucial part of how she's kept her smile healthy all these years.
You may have noticed during that video that Rachel mentioned undergoing orthodontic treatment in the past (as if her perfectly straight teeth weren't enough of a clue!) As it turns out, orthodontic treatment doesn't only offer cosmetic benefits for patients. It can also make a big difference for your oral health for a number of reasons.
Call Us Today


to Get a Same-Day Appointment
How Do Orthodontics Make Oral Care Easier?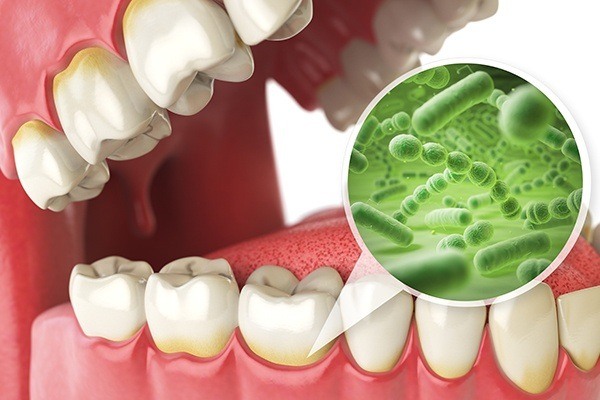 Regardless of the type of orthodontic treatment you undergo, removing numerous gaps, crowding and misalignment in teeth can do wonders for your oral health. For example, think about the many gaps where plaque and food debris can gather in crooked teeth. When left unremoved, plaque can easily turn into its calcified form known as tartar, which breaks down tooth enamel and can only be removed by a dentist. Bacteria feeds on loose food debris, so food that's left unremoved only becomes a breeding ground for cavity-causing bacteria.
Fewer spaces in between teeth means less surface area for plaque and food debris to collect on. That means there's far less plaque buildup and food debris to remove from teeth during your at-home oral care. Easier oral care means a lower risk of developing tooth decay, cavities or gum disease later in life.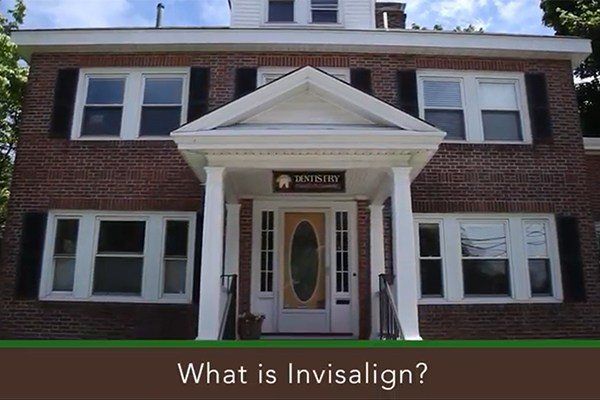 What are Invisalign & ClearCorrect?
Both Invisalign and ClearCorrect are unique alternatives to traditional metal braces. You may have heard of them in the past and may have even learned about them during your time here at Capron Park Dental. Both brands utilize a series of clear, plastic aligners to gently shift teeth over time. Depending on how misaligned your teeth may be, the number of pairs you receive may fluctuate. The treatment can sometimes be completed in as little as 4-6 months. Regardless, by wearing each pair for at least 22 hours per day for 1-2 weeks at a time, you can achieve a straighter and healthier smile, all without the use of fixed metal hardware.
Why Clear Aligner Technology May Be Perfect for You!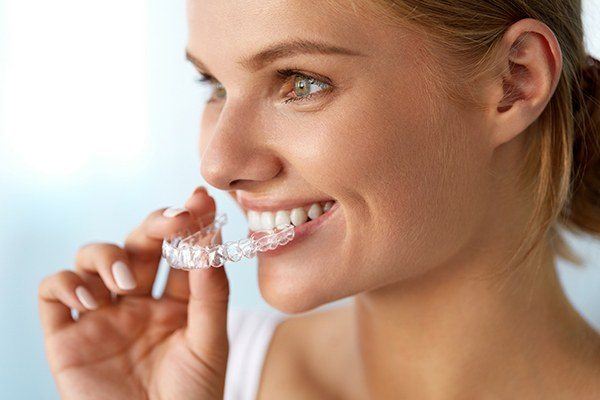 One of the most common reasons patients choose not to use traditional metal hardware to shift teeth is because of the limitations it puts on their lifestyle. Not only is your smile and overall appearance completely transformed, but your ability to eat the foods you enjoy is hindered. Additionally, performing basic oral care actually becomes more difficult, especially when flossing. In fact, patients often have to buy additional oral care products to keep their teeth clean while undergoing treatment, including water picks and flossing products specifically designed for orthodontic hardware.
In contrast, clear aligners from both Invisalign and ClearCorrect are completely removable. That means you don't have to change your appearance, oral care habits, or diet, simply to gain a straighter and more attractive smile. This makes treatment extremely ideal for working professionals who may rely on their appearance for their job or those who would prefer to not wear metal brackets and wires that are often associated with teenagers. Clear aligners truly provide the best of both worlds when it comes to aesthetics and functionality.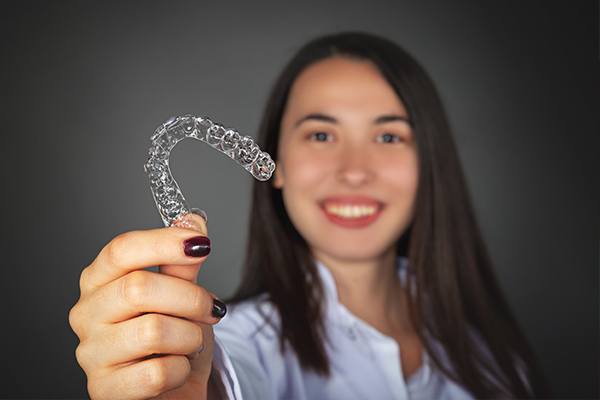 How Do We Remove the Guesswork of Orthodontics?
Orthodontic treatment is a complicated process, mainly because it can be difficult to predict the outcome of your treatment ahead of time. With traditional braces, orthodontists attach the brackets and archwire first, then make adjustments throughout treatment as needed. This technique requires a large amount of guesswork and often results in a trial-and-error approach to realigning crooked teeth.
In order to best predict how your teeth will shift into their straighter position as well as confirm what each stage of your treatment will look like, we need to make sure we have accurate data to rely on.
The better we're able to capture images of your oral structures, the more effectively we can create a series of clear aligners that represents your treatment. The more accurate your aligners are, the better your outcome will be. Of course, you'll still need to wear the aligners for the required amount of time daily for them to shift teeth.
The Technology Behind Invisalign and ClearCorrect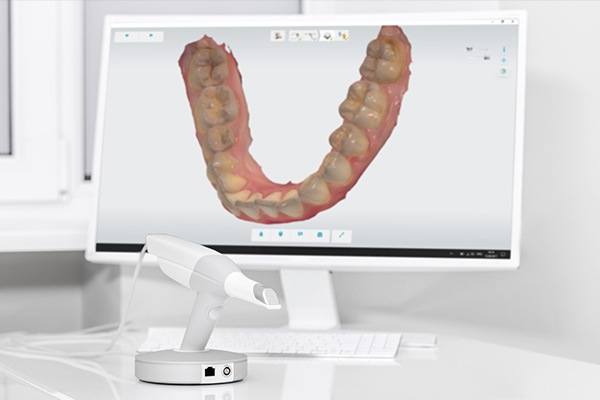 Advanced devices like the Trios 3D Scanner allow us to capture a far more accurate representation of your mouth. In the past, you'd need to bite into gray, putty-like impression material to have your custom-made aligners created. Not only was the process often uncomfortable for patients, but it also wasn't exactly foolproof. In some cases, multiple impressions would need to be taken if the initial bite wasn't good enough to use.
Today, the all-digital Trios 3D scanner makes it incredibly easy to capture highly-detailed, 3D images of your teeth and gums. When you come into our practice, you'll get to see a start-to-finish visual representation of what your smile will look like after completing treatment. It effectively removes the guesswork associated with traditional braces and helps us create a more predictable treatment plan overall. We can easily determine underlying problems ahead of time and confirm exact areas that we need to target in order to effectively straighten problematic teeth.
Once we've collected these 3D images of your teeth, we'll send them over to an Invisalign or ClearCorrect facility offsite. There, your series of clear aligners is designed via their proprietary software. After they've completed designing the series, one of our dentists will review the series as recommended by the laboratory. If approved, they'll sign off on the designs and send the series off to the production phase. Over the next couple weeks, your series of clear aligners will be manufactured and sent to our office for fitting.
Another perk of designing orthodontic treatments in this way is you won't need to visit our office as often as you would for traditional braces. Traditional orthodontics require routine checkups every four weeks or so because orthodontists need to confirm that the adjustments they made are effectively shifting teeth as planned. Since we have your realignment already planned out, you don't need to visit our office nearly as often. However, we'll still have you come in every once in a while to confirm that you're complying with the treatment's requirements.
To close our quarterly newsletter, we'd like to thank Rachel for her kind words and experiences while attending Capron Park Dental throughout the years. Our goal is to not only provide exceptional dentistry, but give patients a reason to get excited about their upcoming appointment. We hope that after learning about the benefits that clear aligner technology can provide, you'll pay our office a visit in the future. Until then, we hope our patients enjoy the summer season with a smile!
Have Any Questions?


Contact us Today!