Attleboro, MA General Dentist
Get to Know Dr. Aliza Hanif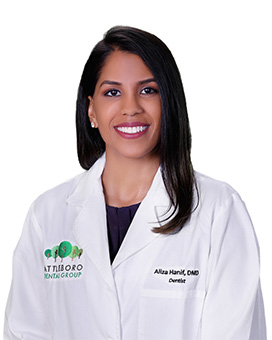 Although Dr. Aliza Hanif was born in New York and raised in Florida, her passion for serving patients in Maine runs deep. In fact, she went on an immersion trip to rural Maine during dental school! Helping patients in need of quality oral care was extremely rewarding, and the experience further solidified that dentistry was the perfect fit for her. Want to learn more about her educational background, training, and experience? Then read on!
Why I Became A Dentist
As the first dentist in her family, Dr. Aliza Hanif didn't immediately know that being an Attleboro dentist was her dream job. After completing her undergraduate degree, she worked in marketing for a bit before realizing that a career in healthcare was what she wanted. Although she didn't realize it at first, dentistry combined her two interests: science and golf. For her, dental care and golf are similar because you make a difference in your quality of round or, in this case, someone's life with your own two hands. She made the decision then and there to shadow her family dentist and the rest, as they say, is history!
My Educational Background
Dr. Aliza Hanif's journey to becoming an Attleboro dentist began at Mount Holyoke College, which is where she earned her bachelor's degree. She then completed her master's in management studies from Duke University-The Fuqua School of Business. The final step was to attend the University of New England-College of Dental Medicine.
Throughout her education, Dr. Aliza Hanif went above and beyond. After all, she completed nearly 100 hours of shadowing before even attending dental school! While earning her doctorate, she was a CUP-AHEC Scholar, which is why she was able to go on an immersion trip to rural Maine. As previously mentioned, providing oral care to patients in need was extremely rewarding and further solidified her passion for dentistry.
With a passion for education, Dr. Aliza Hanif's pursuit of knowledge didn't end after dental school. Today, she is an active member of the American Dental Association and Seattle Study Club. Plus, she is certified in CPR and BLS and has completed the LVI Core I training. She genuinely enjoys using her extensive education and advanced training to help patients with all of their dental needs – from alleviating tooth pain to transforming their smile through an esthetic restoration.
My Life Outside of the Dental Office
As a former professional golfer, one of Dr. Aliza Hanif's favorite things to do outside the office is golf – it helps her re-center. You'll also find her cooking, hiking, playing tennis, traveling, and exploring new local restaurants in her free time. Here's a fun fact about her: she was the first person in Miami-Dade to win four major golf tournaments in one season in her junior year of high school.