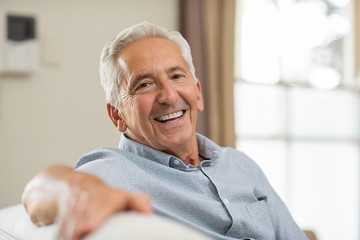 For many people missing several or all of their teeth, dentures are the replacement option of choice. These restorations can give you back some of your bite power and also fill in the gaps in your grin so you can regain your confidence in your smile. Though full dentures last an average of seven to 10 years and partials can last anywhere from five to 15, they will eventually need to be replaced. Read on to learn about five common signs that it's time to visit your dentist for a new set of dentures.
Sign #1: Mouth Irritation
Dentures that fit properly will comfortably sit in your mouth and won't cause irritation. If you notice that your dentures are starting to irritate your mouth when you eat, this may be a sign that it's time to have them replaced. Additionally, if you notice that your gums have sores or lesions on them, this is another sign that you should have your dentist examine your restorations.
Sign #2: Changes in How they Fit
Properly fitted dentures should fit snugly against your gums and be held in place by the friction that's created when you eat and speak. Since missing teeth cause the jawbone to erode due to lack of stimulation, this results in constant shifts in your underlying bone structure. This will inevitably cause your restorations to fit improperly over the years. If they begin to feel loose or easily fall out of your mouth, make an appointment with your dentist to have them replaced or adjusted.
Sign #3: Trouble Speaking
When your dentures don't fit snugly, this will make it difficult for you to speak clearly. If you begin to slur your words or can no longer pronounce things correctly, this is a sign that you need to have your dentures adjusted or should ask your dentist about getting new ones.
Sign #4: Stains
Though the teeth of dentures are usually made from highly stain-resistant porcelain, consuming things like coffee, berries, cola, red wine, and tea may lead to discoloration over time. They can't be whitened in the same way as your natural teeth, so you will need to visit your dentist to have new ones made.
Sign #5: Damage
Over time, cracks or chips may begin to form in your dentures. The teeth may also start to loosen. All of these things are signs that it's time to have them fixed or to get a replacement. Additionally, if they have a broken base, this will keep your dentures from functioning properly and is a sign that it's time to get new ones.
If you notice one or several of these five signs, reach out to your dentist. They will help you set up an appointment to have them repaired or replaced so you can enjoy a healthy, well-functioning smile in no time!
About the Practice
Capron Park Dental offers patients a range of exceptional services in their comfortable, inviting dental office. With three talented dentists on staff, they go out of their way to ensure that patients feel safe and comfortable throughout their visit. If you're replacing multiple or all of your teeth, they can also have you fitted for dentures so you can get back to loving your smile. For more information on dentures or to schedule an appointment with Capron Park Dental, call their office at (508) 222-5950 or visit their website.