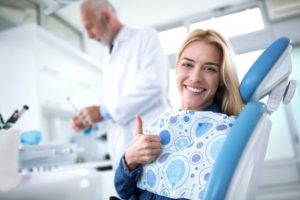 As dental implants become an increasingly popular way to replace missing teeth, more and more people are learning about how the treatment works. However, if your dental implant surgery is coming up soon, you might still have questions about the details of what to expect afterward. Below, you'll find the answers to five of the most common post-op questions that patients have about dental implant surgery.
1. Can I Drive Myself Home from Dental Implant Surgery?
You'll most likely be given sedation or anesthesia for your procedure, which can take several hours or possibly even the rest of the day to wear off. For that reason, you should NOT drive for 24 hours after your surgery. Therefore, you'll need a loved one to transport you to and from your appointment.
2. How Soon After Dental Implant Surgery Can I Eat?
For the first hour after surgery, you'll need to keep pressure on the gauze pads that will have been placed over the implant site. After that, gently remove the gauze and make sure bleeding has slowed or stopped before eating soft foods only. Avoid hot foods and beverages for the rest of the day. Also, do NOT drink through a straw for at least 48 hours, as it could disrupt the healing process and cause severe pain.
3. Why Do I Need to Take Antibiotics for Dental Implant Surgery?
You might be prescribed antibiotics to take before and/or after your procedure. These are designed to prevent infection when recovering from oral surgery. Make sure to follow the directions on the bottle and finish the entire dose until it's gone.
4. How Do I Brush My Teeth After Dental Implant Surgery?
Good oral hygiene can also reduce the risk of infection after dental implant placement. Once 24 hours have passed, you can brush your teeth as you normally would, but be careful near the implant site. Rinse your mouth with saltwater a few times a day, ideally after each meal. Avoid using regular mouthwash or hydrogen peroxide rinse for two weeks.
5. When Can I Go Back to Work After Getting Dental Implants?
It depends on the type of job you have. If your work is relatively sedentary, then you might be able to return to work after only a day or two. However, if your job requires strenuous physical activity, you should take at least three days off following dental implant surgery. Heavy exercise can prevent your body from focusing on healing, which is crucial during the first few days.
If you have any further questions about dental implant surgery, don't hesitate to reach out to your dentist. They'll be happy to tell you anything you need to feel comfortable taking care of your new smile!
About the Practice
Our dentists at Capron Park Dental have the expertise necessary to surgically place dental implants themselves, rather than referring patients to an oral surgeon for the procedure. This means that your smile is in the care of the same team every step of the way, resulting in more streamlined, convenient, and effective treatment. If you still have questions about dental implant surgery, or if you're interested in starting the dental implant process, feel free to contact us by calling 508-222-5950.