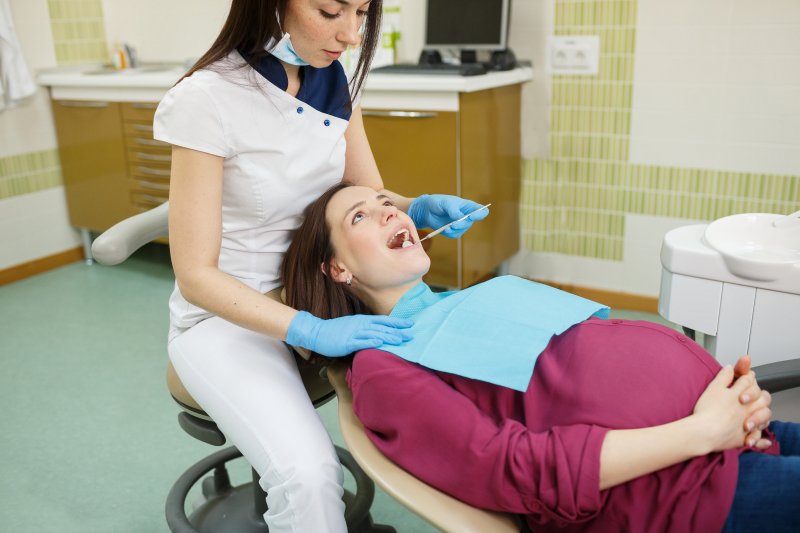 Pregnant women face all sorts of uncertainties and worries. After all, you want the best for your child. As much as you feel like you need to get dental work done to keep your smile healthy, ensuring that it is safe to do so for your baby is the number one priority. Your concerns are common and perfectly understandable. Continue reading to learn how you can receive dental work safely while you are pregnant and which treatments you should postpone until after your child is born.
Are Dental Cleanings and Checkups Safe When You're Pregnant?
It is both safe and highly encouraged to have your teeth cleaned and examined via your regular checkups while you're pregnant. When your hormone levels are higher than usual, you are more likely to experience gum inflammation, bleeding, and irritation. When you see your dentist during this time, you will have a better chance of avoiding oral infections, like periodontal disease, that can lead to preterm birth.
Are Dental Procedures Safe When You're Pregnant?
When you're pregnant, you should do everything you can to prevent infections. This means that having dental work, like fillings and crowns, may be necessary. Emergency procedures, like root canals and extractions, may also be a must. Your dentist will administer the smallest amount of anesthesia possible to ensure that you're comfortable. This can help to reduce the stress on both you and your baby. It is safe for your dentist to use local anesthetics, like lidocaine, during these procedures. If it is required for your treatment, they may recommend and category B antibiotic to prevent and treat infections.
If you are interested in getting elective or cosmetic dental work when you're pregnant, it is best to wait until after the birth of your baby. While most of these treatments are very safe, it is always best to avoid any risks of complications when possible, especially during your pregnancy.
Should You Get Routine X-Rays While You're Pregnant?
The American College of Radiology reports that no single diagnostic X-ray has a radiation dose significant enough to cause any adverse effects on an unborn child. The American Dental Association (ADA) considers dental X-rays to be safe with appropriate shielding. That being said, if your X-ray isn't for an emergency treatment, you can usually postpone it until a later date if that is your preference.
If you're pregnant, be sure to let your dentist know how far along you are. This way, they can be sure to take all of the necessary precautions for you and your baby when you receive treatment. If your pregnancy is high-risk, this is something your dentist should be aware of as well. The wellbeing of you and your baby is your dental team's number one priority!
About the Practice
At Capron Park Dental, there are four skilled dentists committed to providing high-quality dental care to patients in the Attleboro area. With their combined expertise, patients are able to get pretty much anything they need in one convenient location. For more information or to schedule an appointment, visit their website or call (508) 222-5950.