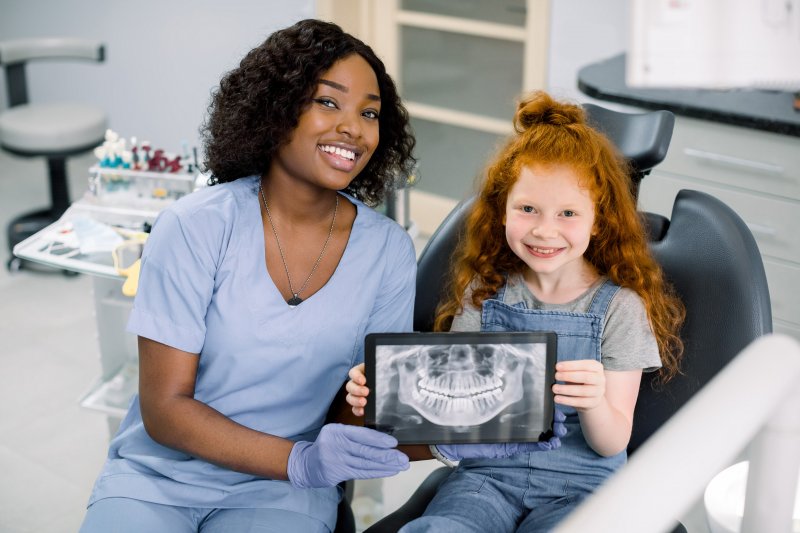 Wouldn't it be nice if all oral health problems occurred above the surface? Unfortunately, because teeth have roots that exist beneath the gum line, dental x-rays are important components dentists use for preventive care. But when it comes to working on a child's smile, are they safe to use? Read on to find out why dentists rely on these images to better care for young smiles.
What is the Purpose of Dental X-Rays?
Dental x-rays are designed to give dentists a clear view of your child's complete oral cavity. While crowns can be seen above the gum line, many of the most common oral health problems occur in areas that cannot be viewed with the naked eye. Whether it is the jawbone, tooth roots, or impacted teeth, these images make it possible to identify potential problems early on and treat them with greater accuracy and precision.
Oftentimes, dentists can spot the following issues thanks to dental x-rays:
If teeth have enough space to properly erupt
If baby teeth are falling out at the appropriate time
If wisdom teeth are impacted or pressing against natural, healthy teeth
If any cysts or abnormalities are forming
If an infection exists within a tooth or its root
If there is a cavity that exists between two teeth or in an area that cannot be visibly seen on the surface
Are Children Safe When Undergoing Dental X-Rays?
Yes, the process of using digital x-rays today makes it much safer than devices used 20 or 30 years ago. Nowadays, dentists rely on machines that emit up to 90% less radiation and provide clearer, more accurate images. As a result, you and your child can expect a more thorough treatment plan that details the location of the problem and how their dentist plans to address it.
Apart from less radiation and clearer images, digital x-rays also take much less time. In a matter of minutes, your child's dental team can quickly capture the necessary images and provide them to the dentist for review. After examining your little one's smile, the dental professional will recommend an appropriate treatment plan if a particular problem exists.
You'll also be pleased to know that many dentists still require children to wear a lead apron and neck cover as another layer of protection against radiation. These additional measures will give you greater peace of mind in knowing that your child and their oral health are safe.
About the Practice
At Capron Park Dental, we aim to help young smiles achieve better oral health. Using digital x-rays that emit up to 90% less radiation than traditional devices, patients of all ages can experience a safer and more accurate preventive solution. Designed to identify problem areas beneath the gum line, it is completely safe and appropriate for children of a certain age to have dental x-rays taken at their dental checkups and cleaning appointments. If you would like to discuss their use with a dental professional, contact us at (508) 222-5950.