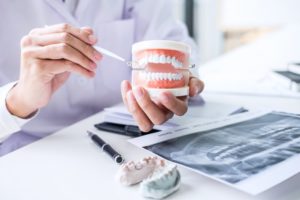 Dentures in Attleboro are an excellent way to quickly and affordably restore your beautiful, functional, and completely intact smile. However, they unfortunately don't last forever. Over time, they will begin to fail and will need to be repaired or replaced eventually. Here's what you need to know about the lifespan of your dentures and what you can do to keep your smile healthy and strong for years to come.
How Long Do Dentures Typically Last?
Dentures are usually crafted from high-quality acrylic materials or beautiful dental porcelain. Both options are designed to look as lifelike as possible and withstand the force of daily use. However, regardless of what they're made from, a set of dentures will typically last between seven and ten years. By then, they'll likely need to be repaired, readjusted, or replaced to continue to function properly and comfortably.
What Causes Dentures to Fail?
Despite the durable materials dentures are made of, there are three main factors that cause them to fail over time:
Everyday wear and tear: After years of talking, chewing, and general use, your dentures will get worn down over time. This weakens them and reduces your chewing ability by changing your bite. Weakened dentures could chip or crack while you wear them as well.
Accumulating oral bacteria: A sure sign that it's time for new dentures is discoloration. This change in hue means that bacteria have begun to collect in the pores of your dentures, which increases your risk of oral infections, gum disease, and systemic health issues.
Natural changes to your bone structure: Your dentures fit snugly against your gum ridge to stay in place. As you get older, natural changes in your bone structure can cause your gum ridge to shift. This causes loose-fitting, uncomfortable dentures that are difficult to eat and talk with.
Can I Extend the Lifespan of My Dentures?
While your dentures won't last forever, there are a few simple yet effective ways you can extend their lifespan, like:
Not biting down on hard objects like pencils or ice.
Handling them carefully when removing or replacing them.
Using specialized non-abrasive toothpaste.
Soaking them every night in water or denture cleaning solution.
Visiting your dentist twice a year to ensure they're still working properly.
If you're looking to replace your dentures with a longer-lasting solution, implant-retained dentures may be for you. Dental implants are permanent additions to your smile that offer unsurpassed durability, functionality, appearance, and comfort. Talk to your dentist today to discover if this modern tooth replacement option is right for you!
About the Practice
Our talented team of dental professionals at Capron Park Dental are committed to keeping the smiles of Attleboro, MA and the surrounding communities looking and feeling their best. That's why they offer a variety of tooth replacement options to fit every dental need, including dental bridges, partial and full dentures, implant-supported dentures, and dental implants. They use the highest quality materials and the latest dental technology to make sure the results of your treatment are as comfortable and long-lasting as possible. If you have any questions or concerns about your dentures, feel free to contact them via their website or at (508) 222-5950.