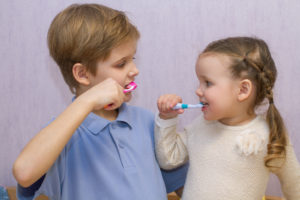 Due to the recent school closures, many kids are finding themselves at home all day. This means they are going to have more chances to sneak into the kitchen and grab a cookie or another sugary treat while their parents are distracted. As any Attleboro dentist will tell you, it's a recipe for tooth decay, and it can only be stopped with regular brushing and flossing. But how do you get kids to enjoy keeping their teeth clean? The key is to make dental hygiene a fun family activity. Read on to discover four strategies that will help make your child excited about keeping their teeth clean.
#1 – Brush With Your Child Daily
Brushing and flossing with your child can make a big impact on their dental health. By doing so, you can appeal to their desire to act like an adult, while bonding with them and teaching them the proper techniques. Even better, you'll no longer have to guess whether or not they've done a good job, because you'll be right there with them!
#2 – Use Toys and Videos to Get Their Attention
Explanations about tooth decay and the importance of regular brushing won't catch a child's attention. Instead, it's important to associate the act of brushing with things your child already likes. Having them watch videos of their favorite cartoon character brushing their teeth may inspire them to brush on their own. You can also pretend to brush the teeth of your child's favorite toys to get them more familiar with the act of brushing.
#3 – Make Healthy Snacks With Your Child
We all know that getting kids to stop eating candy is impossible, but parents can make it happen less often by giving their kids an alternative snack to look forward to. Rather than picking a snack for them, give your child a choice of a few healthy snacks. These snacks could include fruits, nuts, or vegetables. Once they make their choice, work with the child to prepare the snack and take the time to enjoy it with them. Soon, your kids will be looking forward to snack time with you instead of grabbing some candy when they're hungry.
#4 – Reward Good Behavior to Maintain Healthy Habits
It's important to reward your child when they follow through on their brushing habits. Simple rewards like stickers or additional play time will reinforce the importance of positive dental care routines and incentivize your child to stick to them.
The secret to getting kids to follow good dental habits is to make them something to look forward to. By following these tips, your child will make brushing their teeth a priority and set themselves up for a lifetime of good dental health.
About the Practice
Capron Park Dental is a team of four dentists who are committed to providing patients of all ages with comprehensive dental care services. Through investments in continuing education and advanced technology, they are able to identify and treat problems in children before they become major issues. If you're concerned that your child may have a dental issue, you can reach out to them on their website, or at (508) 222-5950.