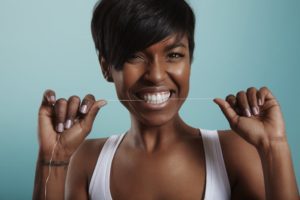 You try to be healthy. You watch what you eat, and you exercise. You avoid things that are bad for your body, and you're mindful of your overall health. But what about your oral health? Are you paying enough attention to your mouth? When you practice oral hygiene at home and partner with your dentist, you can make sure your mouth stays happy and healthy. Here are 4 habits that can help you improve your oral health and preserve your natural teeth for the future.
Flossing
Every time you go to the dentist, you hear the same thing: you need to floss. Does it really make that much of a difference? In fact, it does! Think of all the surfaces of your teeth in between your teeth where your toothbrush can't reach. Plaque can accumulate there and allow harmful bacteria easy access to your teeth and gums. If allowed to remain, these bacteria can cause tooth decay in difficult-to-reach places or gum disease. The small but significant action of flossing your teeth at least once a day helps protect your mouth against these conditions.
Visiting the Dentist
Even if you brush and floss your teeth diligently every day, you still need to see the dentist twice a year? Why? Over time, plaque can slowly build up and solidify, making it difficult to remove. Your dental cleaning every six months takes care of the buildup and prevents problems from developing in the first place. Also, your dentist performs an oral exam and can find any signs of serious conditions, such as gum disease or oral cancer. Getting this exam twice a year helps ensure that you'll catch problems early, making them easier to treat and overcome.
Wearing a Mouthguard
If you play sports, particularly contact sports, you should consider wearing a mouthguard for protection. Although you could get mouthguards at the store, your dentist can make a mouthguard that is fitted just for you. That way, it'll feel better in your mouth and have less impact on your speech and breathing. Accidents happen, but you can be prepared and keep your teeth safe.
Using a Fluoride Mouthwash
One of the best ways to strengthen your teeth is with fluoride. You should be using fluoride toothpaste, and hopefully your tap water is fluoridated. If you're looking for extra protection, you can use an anticavity fluoride mouthwash daily as well.
As you implement these habits into your life and take a proactive role in your oral health, you can see a difference in your mouth, especially for the long term. You have only one set of natural teeth. Make sure you take care of them, so you can bite, chew, speak, and smile for years to come. For more information or tips about oral health, contact your dentist!
About the Practice
At Capron Park Dental, there are three talented, experienced dentists who serve patients in Attleboro and the surrounding area. Dr. William Herr, Dr. Andrew Luccio, and Dr. Trinh Vo, along with the rest of the team, have years of experience and specialize in preventive, restorative, and cosmetic dentistry. They also help with teeth straightening and emergency dental services. To contact them for an appointment, you can call or click here.