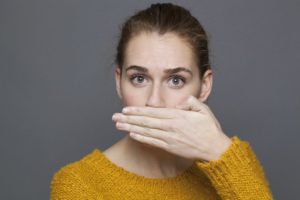 Are you hesitant to meet new people because of your unpleasant breath and need the problem fixed? Your dentist says you don't have to live with this condition and lists 4 possible causes along with treatment solutions. You'll also learn what you can do at home to improve your oral health and enjoy fresher breath!
Reason #1 – Gum Disease
Gum disease is a condition that develops from the uncontrolled growth of bacteria. As they move beneath the gumline, they contribute to the destruction of your fibers, bone and tissue over time and can lead to tooth loss.
One of the warning signs of this disease is bad breath. So if you've noticed lingering odors, it's best to contact your dentist to schedule a visit immediately.
Reason #2 – Oral Infection
Another cause of bad breath can be an oral infection, which also comes from an overgrowth of bacteria in the mouth. It can lead to the following conditions:
Cavities
Canker Sores
Oral Thrush (white plaque that covers the tongue, cheeks or palate)
A visit to your dentist for a diagnosis is the first step to getting the treatment you need.
Reason #3 – Diabetes
People who have diabetes are more prone to developing gum disease and experiencing bad breath. If you have lingering oral odors, you should schedule a visit to your doctor to have tests run to make sure you don't have diabetes.
Your dentist can then help in identifying any signs of gum disease so it can be treated immediately.
Reason #4 – Dry Mouth
For people who take medications on a regular basis, it's sometimes common for them to experience a condition called dry mouth. This is significant because a dry mouth is an excellent environment for bacteria growth.
A visit to both your physician and dentist will allow you to explore any possible alternatives so the proper moisture can be restored to your mouth to prevent excess bacteria growth.
How Your Dentist Treats Bad Breath
The first step to your dentist treating unpleasant breath is to fully examine your mouth, teeth and gums. He or she will look for any warning signs of dental issues that need to be corrected. Furthermore, the professional will be able to identify certain signs of overall health problems that you can bring to your physician's attention.
Here are some of the treatment options your dentist offers:
Scaling and Root Planing – Also called a deep cleaning, the scaling and root planing procedure involves your dentist clearing away the bacteria that have worked their way into the gum pockets. The professional will also smooth the affected teeth roots to prevent new bacteria accumulation.
Surgical Treatment – For more advanced forms of gum disease, you may require a surgical procedure to treat the gums or to receive tooth replacement therapy.
What Can You Do at Home?
Thankfully, you can also take control of your oral health and help to eliminate bad breath by performing thorough oral hygiene while at home. This should include brushing and flossing your teeth at least two times a day to clear away bacteria and leftover food debris.
By implementing what you've learned and visiting your dentist to receive the care you need, you can overcome bad breath and enjoy the best in oral health. To get the help you need, contact your dentist to schedule a visit today.
About the Author
Dr. William Herr earned his dental degree from the University of Maryland's School of Dentistry. He has received additional training in several areas, including oral surgery and the repair of gum tissue. Dr. Herr helps patients enjoy better oral health and fresh breath at Capron Park Dental, and he can be reached for more information through his website.