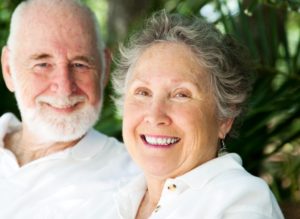 Do you have missing teeth? Well, you're not alone. According to the American College of Prosthodontists, over 120 million people in America are missing at least one tooth. That being said—don't panic! There are options that are available to you to remedy your missing tooth problem. Today, dentures are better and more advanced than ever. Whether you're missing a whole row of teeth or you have a single gap, dentures are your next step in achieving a smile you can be proud of.
What Are Dentures?
Before getting too far into the questions you may have about dentures, let's first discuss what they are. Dentures are replacements for missing teeth that can be removed and put back into your mouth. Although dentures take some getting used to, modern technology has made dentures more comfortable and natural looking than ever. Dentures are made of acrylic resin and plastic with prosthetic teeth and gum-colored base components.
Dentures are custom made in dental labs, so no two dentures are exactly alike. Every patient will get a custom fit that fits to their mouth perfectly. Once your dentist makes a mold of your mouth, they will decide which kind of denture you need.
What Are The Types of Dentures?
There are different types of dentures, so it is important to educate yourself on which one could be best for you:
Conventional full denture: This is a full row denture that is placed in your mouth 8 to 12 weeks after all remaining teeth are removed and the gum tissue has healed.
Immediate full denture: This full row denture is placed in your mouth right after your remaining teeth have been removed this way you never have to go without teeth. However, you must go in to your dentist a few months later to get it relined. The bone supporting your teeth reshapes while it heals, so the denture can become loose as your supporting bones strengthen.
Partial denture: The partial dentures rests on metal pieces that attach directly to your natural teeth. Sometimes crowns are placed on the natural teeth around the denture to further stabilize the teeth. This is a great removeable alternative to bridges.
Implant-retained denture: This denture is supported by and attached to dental implants. In today's world, dentists will urge most patients to choose implant-retained dentures because they're much better for the patient's health and oral function. This option is highly recommended because it can restore your chewing up to 70% which is much higher than alternatives.
How Long Do Dentures Last?
Dentures do not last forever so it's important to keep track of when you got yours. In general, dentists recommend getting new dentures every 5 to 8 years. Over time your dentures will wear out, but another thing to watch for is that your gums may change shape or shrink over the years. This can make your dentures fit improperly, so it's best to keep regularly scheduled checkups.
What Can I Do If My Dentures Are Loose?
A common reason for dentures being loose is gum recession. This is a normal occurrence and can be combatted by routine visits to the dentist. If you have full dentures, they are more likely to become loose.
The best thing you can do is get in to see your dentist as soon as possible. You probably need a reline, which is done by the dentist. This helps better fit the denture to your gum tissue. There are two different relines: temporary and permanent. They mutually require you to visit your dentist where both of you together can make the right decision on the best option to take.
Whether you currently have dentures or you're in the market, it is good to know your options. Now that you know the different types of dentures and why they could be good for you, contact your local dentist to discuss your next step towards a full and bright smile.
About The Practice
Dr. William Herr and Dr. Andrew Luccio have both received various awards for their expertise in dentistry, and they stay up to date with the latest advancements in the field through involvement in the Academy of General Dentistry. With extensive knowledge on dentures and implant retained dentures, they are ready to help your smile become full again! They currently practice at Capron Park Dental and can be contacted by phone at (508) 222-5950.