Attleboro, MA Dentist
Get to Know
Dr. Alyssa Neelley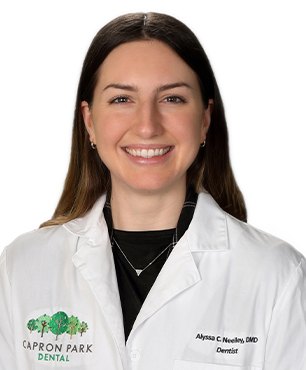 For Dr. Neelley, one of the most rewarding parts of being a dentist is helping patients achieve a smile that's as functional as it is beautiful. Combining science and art to improve a patient's health and confidence never gets old! She looks forward to meeting you in person and learning more about how she can help you, but until then, you can read on to learn more about her journey to Capron Park Dental.
Why I Became a Dentist
It was actually Dr. Neelley's own smile-transforming experience that sparked her interest in dentistry! During her orthodontic treatment, she saw first-hand how her dental team could positively impact the lives of others. She ultimately chose to become a member of the Pre-Dental Society in college and completed two mission trips to Central America to provide underserved communities with essential dental care. These two experiences only solidified her passion for the field!
My Educational Background
Dr. Neelley's studies began at the University of California, Santa Cruz. After graduation, she chose to attend the Roseman University of Health Sciences College of Dental Medicine. During her time there, she completed advanced training on a wide range of topics, including oral surgery and endodontics!
Passionate about honing her craft, Dr. Neelley's pursuit of education did not end there. She attended a one-year Advanced General Dentistry residency at Tufts University, which gave her valuable experience with cutting-edge technology like digital scanners and soft tissue lasers. To this day, she stays at the forefront of dentistry through active memberships with professional organizations like the American Dental Association, the Massachusetts Dental Society, and the Academy of General Dentistry.
My Life Outside of the Dental Office
Dr. Neelley has a fiancé, dog, and cat, and she loves spending time with them at the end of each day. As for hobbies, she enjoys hiking, fishing, and rock climbing – pretty much anything outdoors! She also likes taking road trips back to California to visit her family.