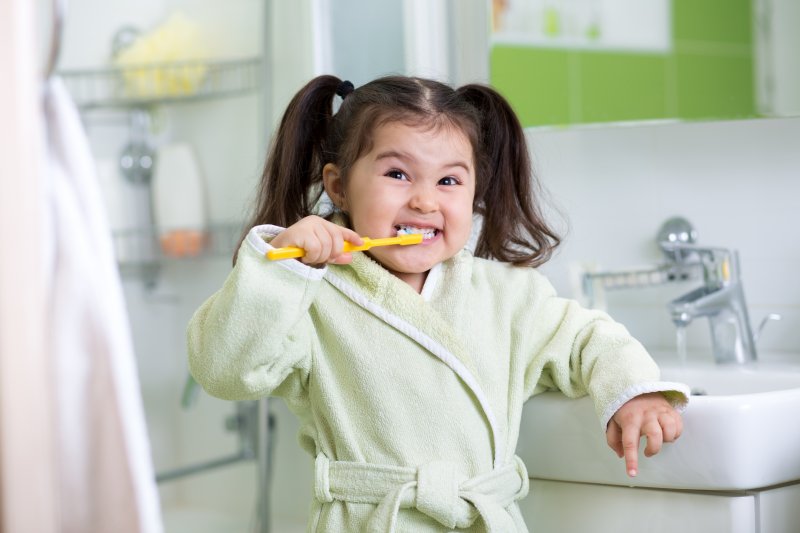 When it comes to your children's oral health, you might think it won't become an issue until they get all their "baby teeth." After all, how can their mouths be at risk before that point? It's not like they'll have had any solid foods that cause enamel erosion, staining, and such. However, the truth is that you should care for your kids' dental well-being from an early age. To help you do so, here's a summary of when and how to clean your children's teeth and gums — at least until they're ready to do so themselves.
So, *When Should* You Start Cleaning Your Child's Teeth?
You can implement an oral hygiene routine just a few days after birth.
Until they get their first teeth, use clean gauze or washcloths to wipe your infant's gums gently. Doing so will wash away bacteria that would otherwise cling to the area. Ideally, this will take place after feedings and before bedtime.
As soon as your child's first tooth erupts, switch to brushing with a small, soft-bristled toothbrush twice daily.
How to Brush Your Child's Teeth
The actual process of brushing your child's teeth is fairly simple. Just follow these five steps:
Step 1: Apply the right amount of toothpaste. A rice-grain-sized amount is ideal for children 0-3, and pea-sized is suitable for those three and up.
Step 2: Angle the toothbrush forty-five degrees. The brush head should be facing towards the gums of the upper or lower teeth.
Step 3: Move the brush gently back and forth. Use short, tooth-sized strokes and continue on the interior, exterior, and chewing surfaces.
Step 4: Brush the front teeth with the toothbrush in a vertical position.
Step 5: Brush the tongue to remove bacteria from its surface.
Continue brushing your child's teeth until you're confident they can brush independently. Every child develops at their own pace and is ready at a different age; however, most can do so by the time they enter preschool.
As you can see, it's never too early to get a head start on kids' oral health. Talk to your dentist if you have any other questions, concerns, or ideas about child dental care.
About the Practice
Capron Park Dental is dedicated to serving dental patients in Attleboro, MA. Their dental team has decades of experience in dentistry and uses ultramodern equipment in their office. They specialize in preventive, restorative, and cosmetic dentistry, as well as orthodontic and emergency dental services. You can take comfort that your treatment will be in caring, experienced hands. For more information or to schedule an appointment, you can reach them at their website or by phone at (508)-222-5950.