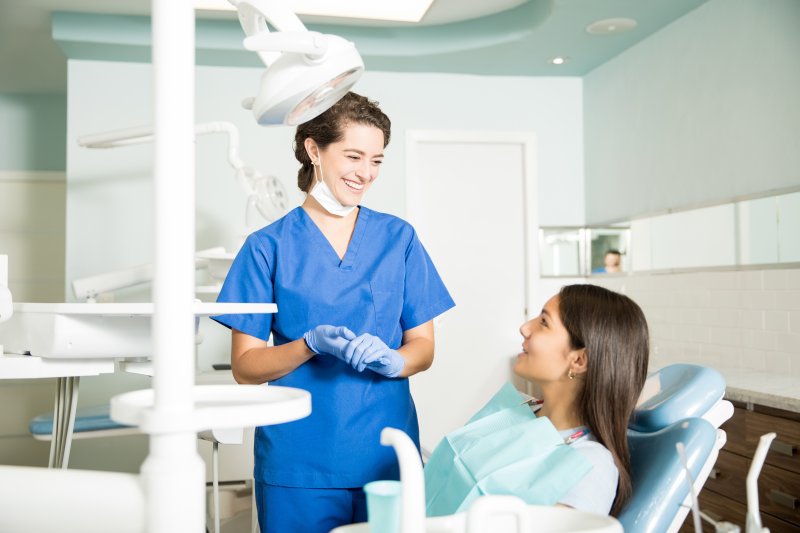 You may be used to your dentist asking you tons of things at your dental appointments, but how often do you ask them questions? Your biannual dental appointments offer you the perfect opportunity to bring up any concerns or questions you have regarding your oral health. Here are seven important questions you should ask your dentist at your next appointment.
1.) What Dental Products Should I Use?
There are an array of different toothbrushes, toothpastes, dental flosses, and mouthwashes to pick from. Since they all offer different benefits, your dentist can help you determine which ones will benefit your smile the most.
2.) How Are My Fillings and Crowns Doing?
Fillings, crowns, and other restorations begin to show signs of wear over time. They will eventually need to be replaced, so make sure to ask your dentist if they're in good condition and how much longer you can expect them to last.
3.) How Can I Improve My Smile?
Asking your dentist a question as general as this one allows them to recommend a number of services. Some of these may include teeth whitening, veneers, or just taking better care of your teeth at home.
4.) Am I At a High Risk of Developing Oral Health Issues?
Genetics, lifestyle choices like smoking, and your overall health may put you at a higher risk of developing issues like cavities and gum disease. Make sure you tell your dentist if your family has a history of any health issues so they can recommend preventive treatments or additions to your dental hygiene routine to keep these issues at bay.
5.) Are My Medical Records Up to Date?
If you've recently been diagnosed with a medical condition or started taking new medication since your last dental visit, let your dentist know so they can update your records. This will allow them to provide you with more effective care and avoid complications.
6.) Why Have New Dental Issues Developed?
If you notice new dental symptoms, don't be afraid to speak up and ask your dentist what the source of the issue could be. Things like bad breath, sensitive teeth, and dry mouth can all be warning signs of a serious oral health problem, so let your dentist know about them as soon as possible so they can administer the necessary treatment.
7.) When Should I Have My Next Checkup?
So you don't forget about your next checkup, make sure to schedule it before you leave the dentist's office. It's generally recommended that patients come in for cleanings and exams every six months, but your dentist may suggest more frequent appointments depending on the state of your oral health.
The next time you see your dentist, make sure to ask the above questions. They'll be happy that you're taking an interest in your oral health and will give you the information you need to keep your pearly whites looking lovely!
About the Author
Dr. Poya Jafari, Dr. Andrew Luccio, Dr. Nahed Lakkis, Dr. William Herr, and their team at Capron Park Dental provide Attleboro residents of all ages with quality, efficient, and effective oral health care they can trust. They are ready and willing to answer any questions you have about your oral health so you can care for your teeth the best way possible. To learn more or to schedule an appointment, call Capron Park Dental's office at (508) 222-5950 or visit their website.