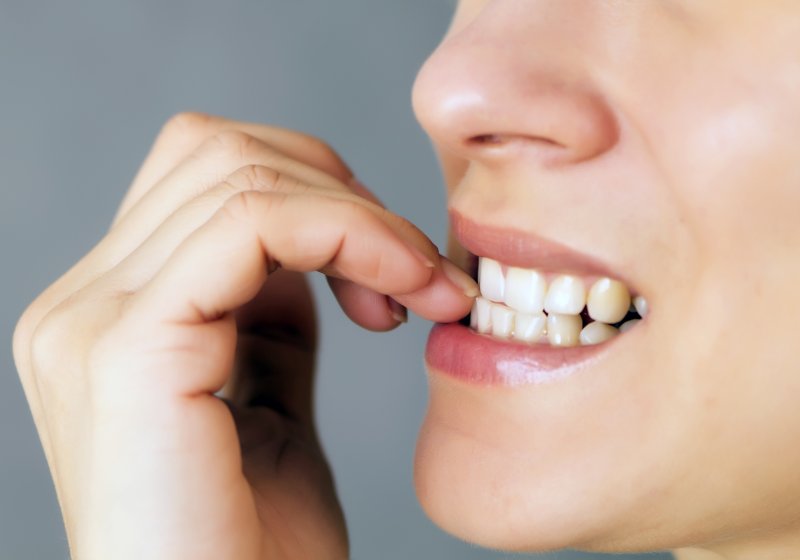 One of the best things about living in the 21st century is the fact that missing teeth can be a thing of the past. There are multiple different tooth replacement options out there that can help people to restore their smiles after suffering from tooth loss, including dental implants. They have all sorts of different benefits including being long-lasting. However, they won't have a very long life if you aren't caring for them properly. Here are some bad habits that you should avoid if you have dental implants.
Nail Biting
This is a habit that can be very difficult to stop, but it is worth taking the time to put a stop to it. When you bite your nails, you are bringing bacteria and viruses into your body in the process, increasing your chances of becoming sick. Even though your implants are very durable, they are not indestructible. Biting your nails can cause you to chip or break your teeth. It also puts pressure eon your jaw when it is protruded for a long period of time. You could even end up tearing your gum tissue. In order to discontinue this habit, try taking steps to reduce stress, using a bitter nail polish, or investing in a manicure.
Brushing Too Vigorously
In order to keep your oral health in check, you need to be brushing your teeth at least twice each day. If you aren't brushing properly, this can be just as bad as not brushing at all. If you use too much force, you could damage both your protective enamel and gum tissue. In order to maintain strong dental implants, you must have healthy gums. Brushing too hard can cause gum recession over time. Be sure that you are using a soft-bristled toothbrush and applying gentle pressure.
Biting on Non-Food Objects
A common nervous habit that people have is chewing on things that aren't meant to be chewed on, like ice cubes, pens, pencils, or something else. This can Put too much pressure on your implants and even damage the bone that secures them.
Using Your Teeth as Tools
It may seem more convenient and easier to use your teeth to do jobs like open packaging, pop bottles, or cut through thread. However, your dental implants do not have a periodontal ligament to cushion them, so they are especially vulnerable to both pulling and twisting forces.
Snacking Frequently
If you are constantly snacking on foods that are sugary or sipping on sweet beverages throughout the day, your teeth will not be thanking you. These food particles are fed on by bacteria in the mouth, and a weak acid is produced as a result. Ultimately, your enamel will endure damage, and you will be more likely to experience oral health problems.
Implants are a great option for people who are missing teeth, but proper care is of utmost importance. By avoiding these bad habits, you are more likely to have your dental implants for many years to come.
About the Author
Dr. William Herr earned his Doctor of Dental Surgery from the University of Maryland's School of Dentistry and earned the opportunity to take part in a year-long implant prosthodontics and oral surgery clerkship. Currently, he is involved with the Academy of General Dentistry and a member of the Massachusetts Dental Society's Leadership Institute. For more information on dental implants or to schedule an appointment at his office in Attleboro, visit his website or call (508) 222-5950.