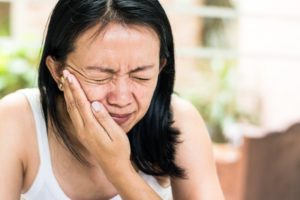 To say that the COVID pandemic has impacted the entire planet is an understatement. Unfortunately, it has caused more than just a threat to people's respiratory health. New data suggests a connection between jaw pain and COVID, and an increase in dental emergencies related to cracked teeth and crowns. As you continue reading, learn about the relationship and discover the value of maintaining regular dental visits.
How Increased Stress Can Encourage Poor Dental Health
The Centers for Disease Control (CDC) has released an abundance of information about the increase of stress due to the outbreak of the COVID virus. States of heightened stress can affect dental health by contributing to jaw clenching and teeth grinding (which is called Bruxism). This can lead to premature enamel wear and cracked teeth and crowns. Bruxism can also encourage temporomandibular joint (TMJ) disorder, which is the inflammation of the joints that open and close the mouth.
Warning Signs of Bruxism or a Cracked Tooth
Because bruxism can sometimes go undetected for a prolonged period, it's important to know what warning signs to be on the lookout for. Pay attention to any jaw or facial muscle tension, headaches, jaw popping or tongue indentions.
Some of the possible indicators of cracked teeth are pain when chewing or biting, swollen gums around the injured tooth or sensitivity to hot or cold foods.
Treatment for Bruxism
Of course, it's best to seek treatment for bruxism before it leads to a cracked tooth or crown or TMJ disorder. A dentist can custom design a mouthguard to be worn at night, since this is when most people grind their teeth the most.
Here are some complimentary means of reducing stress levels:
Counseling
Morning yoga and stretching
Adopting an exercise regimen
Meditation, prayer or breathing exercises
What to Do for a Cracked Tooth or Crown
The moment you notice a cracked tooth or crown, you should immediately reach out to an emergency dentist to schedule a visit. You can avoid further damage by not chewing on that side of your mouth until you've been treated.
To slow down bacteria growth, rinse your mouth with a saltwater solution. If there is any discomfort, taking an over-the-counter pain reliever like ibuprofen (Motrin, Advil or Aleve) can provide temporary relief. When you visit an emergency dentist for restorative care, you'll also be provided with pointers on how to prevent a future dental emergency.
The Value of Being Proactive
Due to the pandemic, visiting a dentist on a regular basis for preventive care may not seem that important, but the fact still remains that it's a great way to avoid some of the more complex dental health problems. The more proactive you are, the better your chances of protecting your teeth during and after the COVID crisis.
About the Author
A graduate of the University of Maryland's School of Dentistry, Dr. William Herr is a dedicated and passionate professional. He has stayed abreast of the latest changes and advancements in dentistry by taking hundreds of hours of continuing education. Dr. Herr understands how difficult COVID has made his patients' lives, but he still encourages them to visit semi-annually for cleanings and checkups to ensure optimal dental health. He provides compassionate and comprehensive care at Capron Park Dental, and he can be reached for more information or to schedule a visit through his website.