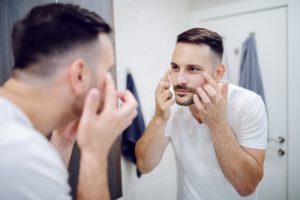 When BOTOX and filler injections first hit the market, most of their customers were female. Over time, men also began to see the advantages that they could bring in terms of helping them obtain a youthful appearance and enjoy a better quality of life. In fact, a study done in 2016 found that over 400 thousand men had received BOTOX, and that number has only risen since then. Your Attleboro cosmetic dentist discusses why BOTOX for men is taking the world by storm.
Why More Men Are Choosing BOTOX and Filler Injections
Aging and wrinkles don't discriminate, so it stands to reason that men would also be interested in using BOTOX and fillers to help retain a youthful appearance. If you're a gentleman looking to enhance your appearance, here are some of the benefits these treatments can have for you:
Career Advancement
Studies show that increased self-confidence plays a huge role in career advancement. Men who feel prouder of their physical appearance are much more likely to put themselves out there and take chances to achieve advancements at their workplaces. BOTOX and fillers can help you look and feel better by removing distracting fine lines. Overall, they can improve your attitude, and positive attitudes can encourage promotion in the workplace.
Adult Acne Reduction
If you struggle with adult acne, you are far from alone. Believe it or not, BOTOX can actually help reduce stubborn acne. It works by minimizing the amount of oil produced by the skin on the affected area, helping to stave off pimples.
Dating
Similar to the way that having confidence in the workplace can boost your career, having confidence in the dating pool can lead to happier and more successful relationships. Whether it's getting a fresh headshot that you can be proud of posting as your profile image or just feeling more self-assured on your next date, BOTOX and filler injections can help remove wrinkles that can hinder you from being your best self.
Headache Relief
That's right, even BOTOX can help reduce the frequency of tension headaches! These are the ones that come from furrowing your brow muscles when you're stressed or in deep thought. By relaxing the muscles in the forehead, it helps to reduce the frequency of head pain caused by tension.
No matter your age, it's never too late to start taking preventive actions to reduce wrinkles and lines. Men care about their appearance as well, and nothing should hold you back from living a more fulfilled and self-confident life. Talk to your dentist about the options you have to minimize the signs of aging through filler injections and BOTOX.
About the Author
The team of doctors at Capron Park Dental understands the impact that looking and feeling youthful has on self-confidence. That's why they make it their priority to provide each of their patients with the highest quality of care when it comes to BOTOX and filler injections. They have built their practice on trust and long-lasting relationships, and they can't wait to help you achieve higher self-esteem and enjoy a better quality of life. Are you ready to talk about maintaining a more youthful appearance? Schedule a consultation online or call us at (508) 222-5950.