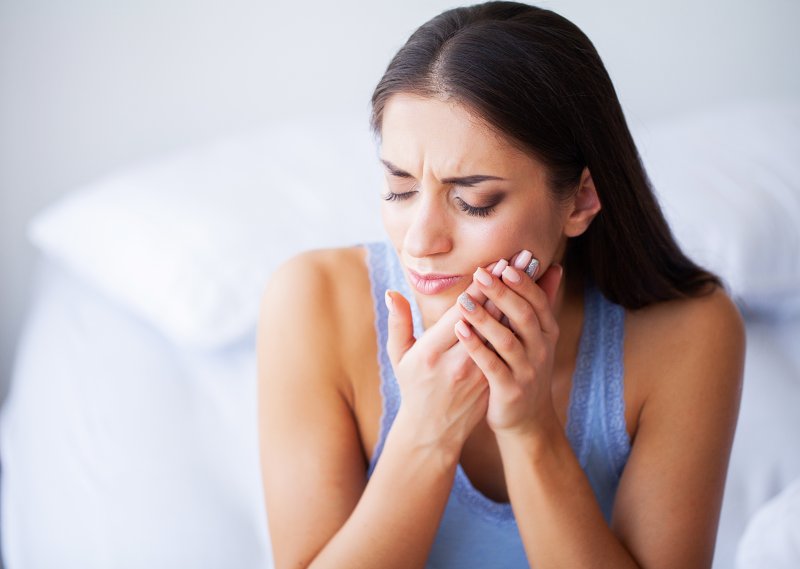 Summer is in full swing, and few things sound as refreshing as an ice-cold glass of soda. As you take your first sip and feel the bubbly carbonation hit your tongue, you immediately feel your shoulders relax. Unfortunately, the peaceful reprieve is short-lived as you quickly feel a searing pain in your teeth from the cold beverage. Yet again, a moment ruined by your sensitive teeth.
Did you know that up to 52% of people experience tooth sensitivity? Whether it is from genetics, untreated tooth decay, or medication, read on for the common symptoms, what to do if it happens to us, and a useful tool that may help.
5 Common Symptoms of Tooth Sensitivity
As the name suggests, tooth sensitivity is when your teeth are sensitive. But to what, exactly? Typically, patients experience pain or discomfort when:
Their teeth are exposed to something hot (i.e., coffee, tea, etc.).
They drink or eat something cold (i.e., ice cream, ice-cold water, etc.).
They indulge in something sweet (i.e., chocolate, candy, etc.).
They chew (even if it is a softer food).
They aren't eating or drinking (like in the middle of the night).
What to Do If You Are Struggling with Tooth Sensitivity
The pain receptors in your teeth, gums, and mouth are designed to signal discomfort when something isn't right. In some cases, tooth sensitivity can be a side effect of serious dental issues, like gum disease and severe tooth decay. However, others are simply more prone to sensitivity due to age, genetics, or pre-existing medical conditions. Therefore, it is of the utmost importance that you schedule a visit to your dentist as soon as possible. From there, they can conduct a thorough exam and create a comprehensive treatment plan to ensure you get the relief you deserve.
Varnish XT: What It Is and How It Works
If your tooth sensitivity is stemming from an exposed, sensitive root, then your dentist may recommend using the 3M Vanish XT Extended Contact Varnish. This small tool is highly effective at treating the cause of the discomfort by using a high-cured, durable coating to create a layer of protection. In addition to negating dentinal hypersensitivity, Varnish XT releases fluoride, calcium, and phosphate, and it requires no pretreatment of the root's surface!
Whether it's chronic or acute, tooth sensitivity can be inconvenient and painful for patients. Fortunately, innovations in technology and dentistry can provide patients with effective relief that is both fast and long-lasting!
About the Practice
At their state-of-the-art office, the team at Capron Park Dental are united by their mission to deliver superior dental care to each of their patients and their families. With their talented staff at their side, Dr. William Herr, Dr. Andrew Luccio, Dr. Trinh Vo, and Dr. Poya Jafari use their extensive experience to provide world-class service in preventive, restorative, and cosmetic dentistry. If you are seeking treatment for tooth sensitivity, don't hesitate to visit their website or give them a call at 508-222-5950.